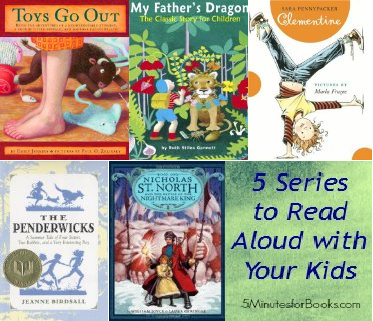 There's no particular season that's better for reading aloud with your kids. In winter time, curling up in one of my kids' beds, we can journey together through a couple chapters of a book each night, and spring days start to get a little longer, allowing even more reading time before dark. In the summer, reading aloud by the fire on a camping trip is heavenly, while fall brings with it a seasonal spookiness that encourages hushed reading time together. See, whatever time of year, reading aloud rocks!
My two younger children are 6 and 7 (almost 8, she'd have me tell you!), and we're big fans of chapter book reading right now. I enjoy sharing beloved books with them, in a sort of "round two" with the books I read first with their older brother, as well as finding new-to-us series, too. I could go on and on about the benefits of reading books that require your children to retain details about character and plot development, but I'd be likely preaching to the choir here, right? There is no shortage of wonderfully fun, delightfully adventurous, and highly engaging series out there, so this list is simply a tiny sampling of a couple of my personal favorites that I've shared with my own children over the last few years. These are the first books in series that I highly recommend:
What series would you add to this list? Whatever it is that you're reading, may you and your children keep it up and enjoy every minute.

Check out our current giveaways. Subscribe to our email feed. Follow us @5M4B on Twitter or on Facebook.