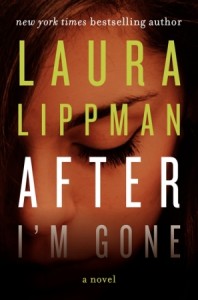 Felix Brewer knows gambling. He knows how to run a lottery under the table, he knows how to spin things to keep this hidden. He knows how to keep his wife and daughters happy, and he knows how to keep his mistress at least somewhat hidden. The one thing he doesn't know how to do is face up to things after he's caught. When he's sentenced to jail, he runs instead, disappearing completely over the border on July 4, 1976.
Ten years later to the day, his mistress, Julie, goes missing. Everyone assumes she's gone to join him, until her body is discovered some time later, missing a diamond earring.
26 years after Julie disappears, Roberto Sanchez, known as Sandy, opens up the cold file on Julie's death and begins to poke around. He knows from past experience that "the name is always in the file;" in other words, the killer has already been interviewed and has somehow gotten away with it. And so he begins to look more closely at the group of people who surrounded Felix, from his wife Bernadette, known as "Bambi," to his 3 daughters, Linda and Becky who were in their teens when their father disappeared, and Michelle who was only 3 and who was born after Felix began seeing Julie. Sandy talks to Bert and Lorraine, who were Felix and Bambi's closest friends, as well as other relatives and associates, chasing elusive memories of 30 years earlier. And slowly but surely, things begin to emerge, things that will forever change the fragile new connections that people have built and shake the family to the core.
In many ways, After I'm Gone
is a novel about the shape left behind by someone who's gone. What is a wife without a husband, children without a father, a mistress without a man to keep her? The storyline skips back and forth over the years, offering us viewpoints from Sandy, the detective, from Felix's 3 daughters, from his best friend's wife, from her daughter Sidney. Put together, these build for us a composite image of the lives lived out in the shadow cast by the disappearance. Bambi always thought Felix would take care of her–in fact he'd promised he would, and had kept them in luxury. But his absence leaves her dependent on his best friend Bert, who lives in even greater luxury. All 3 girls have secrets to hide, but Michelle's is perhaps the most obvious–she is desperately jealous of the fact that her sisters knew their father and she really didn't. Through it all, we watch as Sandy slowly but inexorably draws closer and closer to the truth–truth that will set some people free from a long bondage.
After I'm Gone: A Novel
is Laura Lippman's latest. She's rightfully earned the reputation as a writer of great stories, and this one is no exception. It's a gripping read but what stays with you are the characters she creates. Although the amount of points of view means that we don't go too deep with any single one, together she creates a picture of a group of people impacted by loss and betrayal, and shows that actions always have wider consequences than we might think. Highly recommended.
See the TLC Book Tour page on Laura Lippman's After I'm Gone blog tour for more reviews.