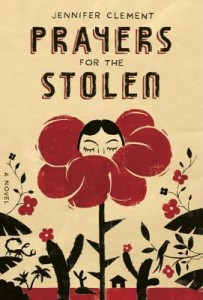 There are some parts of the world that we just don't know well when it comes to do the day to day living. I could not imagine a world where cutting girls' hair and blackening their teeth in an attempt to make them ugly to avoid having them stolen is the norm. Yet this is the reality of Guerrero, Mexico as depicted in Prayers for the Stolen by Jennifer Clement.
Ladydi tells her story in the poverty stricken mountainside village where she lives with her mother, a place where there are no men and none of the necessities we take for granted day to day, yet everyone has a cell phone and knows the one spot where you can stand to get a signal – if you're lucky. Girls there are stolen by the criminal gangs that rule much of Mexico, but the mothers have done what they can to avoid the eyes of the outlaws, from the ugly treatments they give their girls to the holes they've dug for their daughters to hide in when a black SUV comes to town.
The book is heartbreaking, showing a picture of life in and outside Alcupulco that I knew existed on some level but never dreamed was quite so brutal. The book is somewhat disjointed and started out hard to read. While the lack of any quotation marks when people are speaking took just a little to get used to, the jumping around in time and stories of Ladydi's life took far more getting used to. I'm still trying to figure out some of the timelines of events in the book, though the overall thread is far more important to this book than any individual event.
Life on the mountain is hard, and Ladydi's good friend Paula was stolen – yet she somehow managed to return, though a damaged version of her previous self. The interaction between the students and their parents and one year's teacher provide an interesting portrait of what occurs in a land where there are no male figures around. Ladydi's mother is bitter that her father has left, and the rumor has made it back that he has a "new family" in the States. The extent of her anger over being abandoned and betrayed is palpable, and her reaction to her loss of hope is pathetic yet understandable.
I started out thinking I wasn't going to like this book given the difficulties I had getting into the rhythm of the writing, but I became hooked on Ladydi's story (yes, it turns out she was named after Lady Diana, though not for the reasons you might think) and kept cheering her on, sad about some choices she made yet willing her to find another way. Her story is only too common in Mexico, and though this is a work of fiction, too many of the tales aren't.
Written by Michelle who is grateful that she lives in a land where her children have the opportunity to grow up to do whatever they wish, with no fears of who will take it from them. That said, see how Michelle recognized that naming a child – like LadyDi – is far harder than you would imagine via her post inspired by this book on her blog Honest & Truly! and follow along with her on Twitter where she is also @HonestAndTruly.