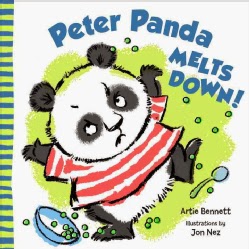 You know how your toddler can be going along with his day just fine, all happy and smiley, and suddenly a tantrum comes out of left field and tosses all that calmness out the window? Yeah, we've all been there. Swap your cutie pie for a fuzzy panda bear and you have the sometimes unpredictable little guy in Peter Panda Melts Down! by Artie Bennett.
Mama has her hands full with three year old Peter, who's usually a playful fun fellow, but just like his human counterparts, when something goes wrong, Peter Panda just might lose it. As each scenario in the story is presented, even the youngest of children will know what's coming when the familiar refrain appears:
Uh-oh.

Here it comes.

Here comes that frown.

Peter Panda melts dowwwwnnn!
Seasoned and newbie parents alike will relate to Mama's experiences trying to calm Peter and still go about her day and get done the things that need to get done. Toddlers and preschoolers can certainly giggle at Peter's antics, and maybe even a twinge of recognition just might register… or a parent could hope. John Nez creates an emotionally believable Peter in his cute illustrations, and Artie Bennett's humor comes through.
With a simple rhyme scheme and repeated text, children will be engaged, and parents will likely smile at the ending, which will be more familiar to some than others. (For the record, I have definitely had plenty of my own meltdowns, if we're being totally honest here!)