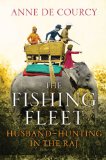 During the years of the British Empire's rule of India, many of Britain's best and brightest young men went off to seek their fortunes, going where there was work and a chance at a successful career in the British Raj. Not surprisingly, they were eventually followed by young single women who were unabashedly seeking a husband. Given the norms of society at that time, an unmarried woman had few opportunities in life and the older they got, the more they would be viewed as superfluous, a burden on the married brothers or sisters who might take them in. Rather than face this, they followed the men, who were just as eagerly seeking wives as companions for the stress and loneliness, in a place where men outnumbered women 4 to 1.
The young women were known as the Fishing Fleet. Author Anne de Courcy has unearthed treasure troves of diaries, letters and interviews to tell the stories of these women who packed trunks full of evening gowns and flannel underwear to travel, well-chaperoned of course, for months by ship and overland, to make lives for themselves in an exotic locale. The Fishing Fleet: Husband-Hunting in the Raj
is written using lots of quotes from these first-hand sources, and they are often delightful, giving a glimpse into a bygone era where formality was prized in spite of huge difficulties.
Initially, British men married Indian women. However, laws were eventually passed which forbade Eurasians from holding certain offices or entrance to certain clubs. Because the men didn't want their wives and children to face such prejudice, this effectively put an end to inter-marriage between the two nationalities, and gave rise to the Fishing Fleet. This state of affairs lasted from mid-Victorian times through the end of WWII. As time went on, many of the Fishing Fleet girls were born and raised in India and then sent back to England for school, so they were returning "home." However, given the vastness of the sub-continent, they might end up in a region that bore little resemblance to childhood memories.
From romantic moonlit nights aboard ship, where champagne was viewed as the best treatment for sea-sickness,  landing meant  the girls (most of them between 17 and 22) were immediately whisked into a whirlwind of dinners and dances, sporting events and other society. Their marriage might mean living 50 miles from the nearest doctor, dealing with extremes of heat or cold depending on location, hunting tigers on elephant-back or snakes in the garden. All this was handled with propriety–one woman writes of the fact that she and her husband dressed for dinner even though they were  miles from anyone else who might have cared. Others wore layer after layer of clothing, until changing fashions finally freed them to wear fewer layers and leave off wearing flannel in the heat altogether. (Aside: This just about killed me. I lived in the Sahara desert for a while and I couldn't even handle polyester)
De Courcy records the specific stories of dozens of families, often tracing stories from generation to generation. She records everything from dress styles to dance rules, and tells individual stories, such as Gracie Trotter, who managed to transcend her Eurasian roots and marry "successfully." Gracie also records tiger hunts where she and her sister were out in the grass, and talks of "Mr. Stripes" appearing briefly. Another woman, Bethea Field, tells of going to a dinner invitation in a long satin dress and shawl while mounted on camel back. Billy Fremlin was raised by her father to shoot tiger, wild pig, and bison, and thought nothing of driving 70 miles to dance in a club.
The British of this time truly believed that theirs was a great destiny–to lead, to guide this nation. This may seem incredibly clueless at best to modern sensibilities, and de Courcy recognizes this while at the same time presenting things to us without comment, as they were. And there was still much to admire about the courage and tenacity of these people. FFThe Fishing Fleet
presents a fascinating look at a bygone era, at all the dazzling pageantry and challenges and joys of daily life.