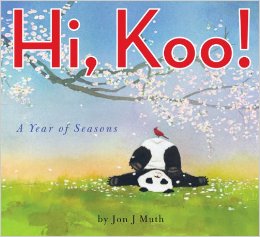 Back in elementary school, I first learned about haiku, those three lined poems that followed the 5-7-5 syllable pattern that suddenly made poetry accessible to me as a young child. I recall writing many of my own poems in that familiar haiku pattern for school assignments and as entries in my diary as well. All these years later, I'm happy to be reminded of my introduction to this form of poetry through a new picture book that I've enjoyed sharing with my own kids. From its play-on-words title to the always beautiful watercolors by Jon J. Muth, Hi, Koo!: A Year of Seasons makes for a delightful way to learn about haiku any time of the year.
Thanks to the Author's Note in the opening pages, I learned that the 5-7-5 pattern isn't necessarily strictly held by modern poets, and Muth does not hold himself to that syllable structure for many of the poems here. I especially like his description of the purpose of haiku: "For me, haiku is like an instant captured in words– using sensory images. At best, a haiku embodies a moment of emotion that reminds us that our own human nature is not separate from all of nature." Children often easily make connections with the natural world, and by exposing them to poetry that calls attention to those experiences and observations, we can encourage them to create their own poetic expressions!
Muth presents twenty-six haiku about the changing seasons of the year here, beginning in fall, and each poem features one capitalized word, also making this is a unique type of alphabet book, too. The poems do indeed focus on small moments, just as Muth described in his beginning note, and they are moments with which children and adults alike can relate– the perfection of warm cookies on a cold day, the vastness of a snowy expanse, the fresh feeling of newness on an early spring day, the joy of watching fireflies fill the night sky. It can be argued that children have a greater ability to live in the moment than adults, and these haiku call attention to the emotions stirred by little moments of all kinds. Muth's illustrations are as evocative as ever, transporting readers to each respective season in their beauty. Exploring the seasons has never been so gorgeous and poetic!