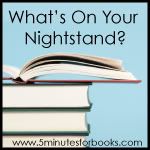 Hey, Lookee here! On time and everything….
I hope that whatever your weather is, it's given you time to read. Whether you have been snowed in or able to enjoy some unseasonably warm weather, as I did this week, there's always time for books.
Let us know what those books are that you are dying to read or the ones that you've just finished. You can use this monthly meme to organize things for yourself or to tell others about books that you've loved or even to ask for help choosing your next book.
We're all booklovers here. Be sure to visit around.
Be sure to look all the way at the bottom to see links to some of our recently reviewed books if you've missed them. We also have several new giveaways up.
Check out our current giveaways. Subscribe to our feed. Follow us @5M4B on Twitter or on Facebook.