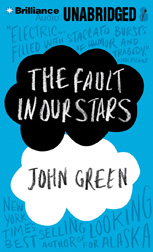 Have you read The Fault in Our Stars? (No-check out my review). People from 13 to 53 have been captivated by John Green's story about two cancer kids looking for love.
I was a John Green fan before this winsome story hit the scene, as were many others, for his funny and spot-on portrayals of teenage life, but The Fault in Our Stars hit a whole new mark. In my opinion, it's because Hazel Grace Lancaster and August Watters captured people's hearts in a different way. As I much as I loved An Abundance of Katherines (and I really did), there's an edge to it and John Green's other works — more hard language and older teen behavior — that prevented me from recommending them to all audiences, including my daughter and other younger teens.
As the trailer shows, this book is not void of all questionable teen behavior, but neither is 85% of anything that is geared to teens on TV, movies, and in print. I am still uneasy with some of that behavior being "normalized," especially since young teens read it and watch it so much, but I also cannot deny that it's completely realistic.
[stepping off weird soap box now to continue]
I did love this book. My daughter loved this book. I'm looking forward to the movie. If you've read it, what do you think of the trailer? Leave a comment and let me know. Feel free to let me know what you think of my weird rant as well.
Some if it is absolutely perfect — like the scene with the lights outside — but I'm thinking I need to do a reread of the book pronto. I think I'm already getting the "This is never going to live up to the book" feeling, which doesn't plague me like it does some people (Ahem — Dawn). But a re-listen is in order, or I might even pick up the book which we also now own.
If you haven't heard the audio, I loved it, and it's worth exploring. It won the ALA's Odyssey award in 2012 for best children's/YA audiobook. and when I reviewed it, I pointed out how much I enjoyed the audiobook.
THE FAULT IN OUR STARS
Drama
Release: June 6, 2014
Director: Josh Boone
Based upon the book by John Green
Producers:  Wyck Godfrey, Marty Bowen
Cast:  Shailene Woodley, Ansel Elgort, Laura Dern, Nat Wolff, Sam Trammell, Mike Birbiglia
Hazel and Gus are two extraordinary teenagers who share an acerbic wit, a disdain for the conventional, and a love that sweeps them — and us – on an unforgettable journey. Their relationship is all the more miraculous,  given that they met and fell in love at a cancer support group. THE FAULT IN OUR STARS, based upon the number-one bestselling novel by John Green, explores the funny, thrilling and tragic business of being alive and in love.
For the latest news and updates, be sure to follow the film on: 
Hashtag: #TFIOS