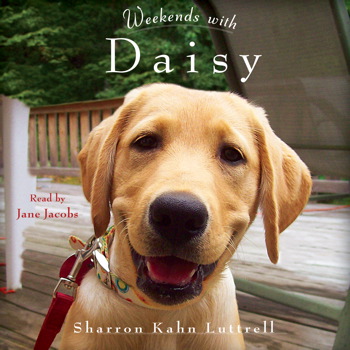 Sharon Luttrell's life is changing. Her kids are growing up and need her less. The family dog, who had been around since those kiddoes were tots, has gone where all good doggies go. Her job in print media is at risk. It's a lot to take in. She misses her dog but isn't ready to commit to the full-time responsibility or to give her heart to another dog just quite yet.
When she sees a service dog in a store, she gets an idea about how to be needed and useful again and to satisfy her puppy cravings. She applies to be a weekend puppy raiser and after a memorable mishap, ends up taking care of a sweet golden retriever on the weekends.
It has a little of the self-important navel-gazing that is a danger of memoir, but that's what makes it memoir. In general Sharon was relatable in her fears and worries and love of animals.
Weekends with Daisy not only talks about the rigors of helping raise a needs dog, but also examines the role of the prison system and rehabilitation.
What??
Well, Sharon's co-raiser, Keith, who cares for Daisy during the week, is in prison. The inmates who have been chosen for the privilege of raising the dogs take care of them during the week, and as a bonus, they get the companionship. But within the prison walls, there is only so much that Keith can do as far as socializing her to the real world. That's where Sharon comes in. She exposes Daisy to kids, to parks, to trains and malls.
In addition to navigating her children's adolescence and her own life, we feel Sharon's weight of responsibility for making sure that Daisy — and thus Keith — succeeds in the program.
And for those of you who avoid dog stories because of what always happens to the dogs (and happens to all of us eventually), I'll tell you that this one is safe on that account.
NOTES ON THE AUDIOBOOK:
You can watch a clip and listen to an audiobook excerpt at the Simon & Schuster audio page.