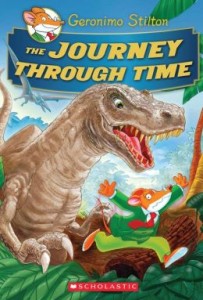 Geronimo Stilton has been a favorite in our house for years. This was one of the first chapter books Mister Man ever read, and it continues to hold his interest with the new books designed for somewhat older kids today. These new books are longer and slightly more complex than the earlier novels, and The Journey Through Time by Geronimo Stilton follows the intrepid mouse as he heads back to the time of the dinosaurs and more.
As with all the Geronimo Stilton books, it is told with plenty of illustrations on each page to break up the text, and portions of the text are highlighted in various colors and fonts to make it more engaging for young readers who may not be the most enthusiastic readers. It's told in a tongue in cheek fashion by the editor of The Rodent's Gazette, Mouse Island's largest newspaper. Geronimo Stilton, a mouse who always seems to land in trouble when he can't stand up for himself yet somehow come out on top in the end, is accompanied by his sister Thea, cousin Trapp, and nephew Benjamin, as he is in most of the Geronimo Stilton novels.
In this installment, Professor von Volt invites Geronimo to his secret lab to show him the Mouse Mover 3000, his latest invention. Although initially reluctant to accept Professor von Volt's offer to test out the time machine, Geronimo realizes his family would love to test it out and agrees to go with him.
As Geronimo travels through time from the age of the dinosaurs to the time of knights to the pyramids of Giza, he "enjoys" adventure in each stop. It's almost like multiple books within one, which makes it somewhat easier to break down into smaller chunks for the reluctant reader.
The book remains as silly and nonsensical as ever, with Trapp thinking he's funny and making things worse for Geronimo while Thea bosses him around like the stereotypical older sister. Benjamin has hero worship of Geronimo and believes he can do anything, which is part of why Geronimo is even willing to attempt some of his braver moments.
In addition to the story itself, I love how there are call outs throughout the book that present interesting facts and information that kids can learn from while enjoying the story, the perfect way to instill a curiosity and love of learning that is critical to success. I love the experiment of creating a Mobius Strip that the wee ones enjoyed learning about and figuring out. The same goes for information about knights and their code of chivalry, amongst other fun tidbits.
Written by Michelle who is thrilled that the wee ones love reading as much as she does. See what else they love on her blog Honest & Truly! or follow along with her on Twitter where she is also @HonestAndTruly.