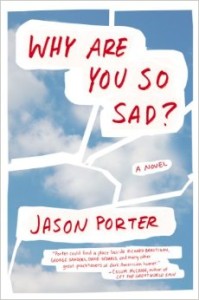 Why Are You So Sad? is a novel by Jason Porter, part social satire and part farce, sort of in the style of Jonathan Franzen or Tom Perrotta. I could almost see it as a mockumentary style show that is popular now. It has the same "Is it safe to laugh?" tone.
Obsessed as he becomes, Raymond composes an anonymous survey to submit to his unsuspecting coworkers Are you who you want to be?", Do you believe in life after death?", Is today better than yesterday?" because what Raymond needs is data. He needs to know if it can be proven. It's a big responsibility. People might not believe him. People, like his wife and his boss, might think he is losing his mind. But only because they are also losing their minds. Or are they?
This was an interesting, somewhat odd, story. We don't know what exactly is wrong with Raymond — why he is so sad — but we do learn through the surveys why the others in his office think they are sad or don't. There's a good sampling of people, and Raymond's life is typical of so many in our busy, crazy world.
If you like fiction with a straight-forward plot, this might not be for you, but if you like slightly strange, ironic, quirky novels that don't necessarily wrap up in a tidy bow, you might like this short novel.