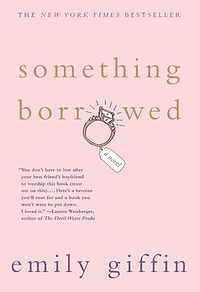 Last week, I had a bit of a long-weekend reading binge inspired by a great bargain bookstore haul. I bought Something Borrowed and promptly read it through in a day.
Darcy is a self-absorbed brat engaged to best friend Rachel's law school buddy Dex. Rachel is responsible and supportive, but on her 30th bday, she sleeps with Dex. Because of the obvious incompatibility of Darcy and Dex as well as the general character of Rachel and Darcy, I think the author wants us to pull for Rachel. We also get her POV, feeling conflicted about the whole situation, so it clouds the issue.
This was exactly the kind of character-built suspense novel that I love. I could NOT put this book down, and I didn't really know how I wanted it to end. I couldn't see an outcome that would be good for all the involved players, but I have to admit that Emily Giffin totally pulled it off.
The secondary characters were well-developed as well and added to this story. I also loved the 80's references from their teen years (the book was written in the early 2000's).
I liked it so much that I promptly downloaded Something Blue on my Kindle, which tells a bit more of the story from Darcy's point of view, and read it the next day.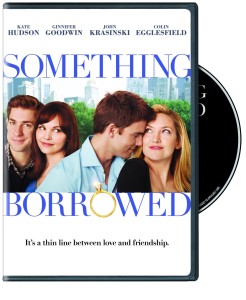 I also wanted to watch the movie. As I was reading it, I did picture the casting — Ginnifer Goodwin as Rachel and Kate Hudson as Darcy. I had the guys mixed up though. I knew Jon Krasinkski was in it, and I pictured him as Dex, though he was really Ethan, with another unknown-to-me dark haired actor playing Dexter.
I enjoyed the Something Borrowed movie. It was mostly true to form, with some notable differences (but I'm cool and easy with that). However, it was hard to build the true complexity and suspense of the issue without Darcy's thoughts.
It was a cute rom-com movie, but if you haven't read the book, I'd recommend that you do that first. If you have read the book but haven't seen the movie, you might like seeing the characters come to life on screen.
Have you read the book or seen the movie or read the sequel? I'd love to know what you think.