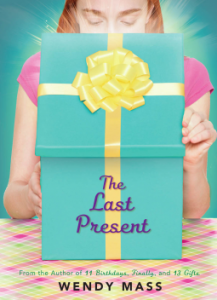 My daughter Amanda and I have enjoyed reading the "Willow Falls" books by Wendy Mass since she told me I just HAD to read 11 Birthdays after she bought it at the Scholastic book fair at school (when she was 11, in fact).
We read Finally (linked to my review) aloud together, the story of Rory's 12th birthday, after which her parents have promised her that she can do all those things she's been waiting for (shave her legs, get a cell phone etc etc). This book was laugh-out-loud funny.
13 Gifts introduces a new character,Tara, who comes to Willow Falls for the summer and is given a mission by Angelica, the mysterious woman with a duck-shaped birthmark who seems to be involved in Willow Falls in a way that people can't quite figure out.
The Last Present takes place immediately after the ending of 13 Gifts. The story focuses on Grace, a young girl who falls into a sort of comatose state. Amanda and Leo are finally able to break the year of silence that their 11th birthday brought about. Angelica tells them that doing that has given them the power to go back in time. I didn't ponder the scientific possibilities of this or even the accuracy among fantasy literature. I just accepted it and moved on. She tells them that she has been blessing the babies of Willow Falls, which keeps them healthy, but every year when she's tried to give Grace the birthday blessing, something has interfered. Amanda and Leo have to go back in time to each of her 10 parties to try to redirect that which went wrong. If they get three right, Grace will be cured.
It is a lovely finale.** All the characters come back together, and there are fun flashbacks to the earlier novels. In general, you can read these in any order, because they are just loosely related, but in order to care about these characters the way this particular story is told, I'd recommend that you go back to the beginning, but why wouldn't you want to? This is a great series to read aloud with your daughter (or son), as I did, or for fans who like realistic fiction with a sci-fi twist. Even though there's the time travel element in this one, and other mystical elements in some of the others (except Finally), it reads like realistic fiction, because the kids are so fun and real.
**I'm assuming here. I don't know for sure, and in fact the amazon description calls it the "latest entry in the Willow Falls books," not the final one, so maybe I'm wrong. I'd love to spend more time with the funny Wendy Mass and these delightful characters she's created.