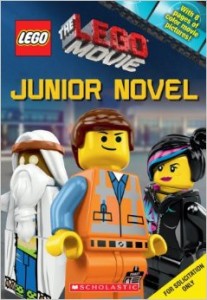 When we saw a movie this summer and there was a trailer for The LEGO Movie, the wee ones went nuts. They were beyond excited, and I'm sure that we'll be sitting in the theater munching popcorn on opening day. And we'll know all about it ahead of time, as we stoked their interest further with The LEGO Movie: Junior Novel by Kate Howard.
The book is based on the movie that will be released in February and is – I presume – fairly faithful to the script. It features an ordinary, everyday LEGO Minifigure named Emmet Brickowski (oh how I love the puns) who becomes the hero who saves the universe. I love the message that heroes you see everyday aren't the only real heroes in the world – anyone can be one.
Emmet finds the Piece of Resistance, a legendary artifact in a cave when he falls through a construction site after work one day. He doesn't realize at first that it's attached to him, but the cops who've arrested him are apparently in on a conspiracy and plan to melt it off him. He is rescued by the mysterious and gorgeous girl he was chasing at the construction site when he fell into the cave in the first place.
Emmet spends the majority of the book confused as he hears about a prophecy that it turns out is about him while Lord Business does his best to take over the world using Good Cop-Bad Cop and other villains. He'd always thought that Lord Business was really President Business and a really nice guy.
Instead, Emmet and the mysterious girl who is really Wyldstyle, a LEGO Master Builder, have to work together to unite the heroic Master Builders to defeat Lord Business and save the world. I love that the heroes include everyone from Abraham Lincoln to Batman to Unikitty.
The book is fast-paced, as I imagine the movie will be. It also has several pages with stills from the movie that provide a quick synopsis and once again generate excitement about the upcoming movie. This is a great way to help prepare for the movie for those who may be a little apprehensive in loud, stimulating theaters as well as those who can't wait to find out what will happen in the movie and want to relive it again and again.
Written by Michelle who knows she'll be dragged to see the LEGO Movie the day it opens but isn't complaining. See what else she and the wee ones are spending their time on her blog Honest & Truly! or follow along with her on Twitter where she is also @HonestAndTruly.
Check out our current giveaways. Subscribe to our feed. Follow us @5M4B on Twitter or on Facebook.