I'm often curious about other people's reading habits, and how they compare to my own. Obviously, I love to read, as do all of us on staff here and all of you who come to visit our site. I don't, however, feel a huge compulsion to keep all the books that I've read, which is likely influenced by the fact that I don't have a whole lot of storage space in my small home. I keep a collection of the ones that I've loved the most, though, and among those are books that I've opted to reread on occasion. I wonder about other readers– is rereading a favorite book something that you do, too?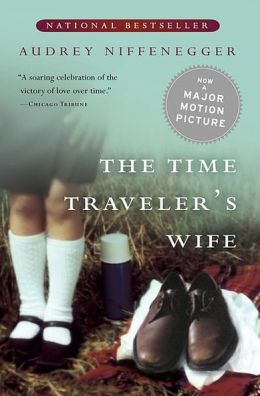 There is one book that I hold above all others, and I've read it four times in the last decade. Audrey Niffenegger's The Time Traveler's Wife touched me in a way that few books have, and the emotion that I felt during that first reading in 2004 has only gotten deeper with each reread. The characters in this book, even in their wholly fantastical situation, have become like real people in my mind, and I adore them. I am awed by their devotion to each other through challenges big and small and their willingness to not let the constraints of unexpected separations destroy their love. This story is lovely, raw, painful, joyful, heartbreaking, and incredibly affecting.
I have my original paperback copy of this beloved novel, but I'd been wanting to get a digital copy for a while now, so that I could return to the story with just the touch of a fingertip. Thanks to Zola Books, it is now available as an ebook, and as one of their "exclusive ebooks," it is available on all platforms. I have an Android tablet with a Kindle app, and it now holds my very favorite novel for me, ready for my fifth read!
But wait, I haven't even told you the news that excited me the most. Audrey Niffenegger has begun working on a (long-awaited, especially by me!) sequel to The Time Traveler's Wife! When you purchase the ebook from Zola, you get an awesome bonus– the first 25 pages of the sequel that focuses on the life of Henry and Clare's daughter, Alba, and her own experiences with time traveling thanks to Chrono-Displacement Disorder, which she inherited from her father.
I don't think I breathed through the entire 25 pages, wanting to absorb every word, but knowing that with each word that I read, I was only getting closer to the last one available right now. After reading the work-in-progress, I had the incredible opportunity to submit a few questions to Audrey Niffenegger about her beloved book and the sequel. I feared scaring her away with my fangirl tone, but I couldn't help gushing over my adoration of her writing.
Dawn, #1 fan: "I've read The Time Traveler's Wife several times over the years, and even in between readings, I sometimes randomly think of Henry or Clare as if they were real people out in the world somewhere. Do the characters you created in TTTW still live with you, entering your thoughts from time to time? If so, did that help to inspire the sequel?"
Audrey Niffenegger, author/artist extraordinaire: "I do think of them as people I've known, though I don't spend a great deal of time with them now; I think about the characters in the stories I am working on at the moment. In the sequel even the characters who were in the first book are a bit different, because we are seeing them through Alba's point of view.

 

The sequel came about rather casually; Joe Regal (of Zola Books) asked if I had any unpublished scenes that we could include with the ebook edition of The Time Traveler's Wife. I didn't, but I promised him that I would try to write a sort of coda to the book, a little piece about Alba as an adult. So I began thinking about her, and created a house and two husbands for her, and then I realized that as usual I was making a story bigger than the 25 pages I had promised to Joe… so I am writing a whole book for Alba."
I know that for every time I read TTTW, I'm reminded of the bittersweetness of life and love– that loss is inevitable, and that we are, in a sense, waiting for it even if we're not thinking about it, as is often the case for Clare. Will these themes of love/loss and waiting continue to play significant roles in the sequel?
"Yes, I think that if one could actually time travel one would be forced to confront loss. The fogging, healing effects of passing time would not be available to the time traveler, who might find herself living momentarily in a present that hadn't yet seen this loss, and the juxtaposition of presence and absence would be glaring to time travelers."
In Spanish, the name Alba means "dawn," which I only know since this was my translated name in Spanish classes in college. Was this associated meaning an influence on your selection?
"Of course there is a whole scene about choosing Alba's name, and Henry and Clare quite consciously choose Alba as a symbol of renewal. She is born after some very harrowing experiences, the miscarriages that Clare and Henry endure, and they are resolving to go forward and to emerge from that sadness."
TTTW is a novel much beloved by many readers. The story and its idea of connections across the traditional sense of time really touched me, and as such, I chose to have a quote from the book tattooed on the inside of my forearm– "All times at once." Have you heard of other reactions from fans that might be categorized as more extreme?
"I know about a few tattoos (I like yours, it's short and hopeful). And I know of some infants named Clare and Henry, that's pretty intense. (My own name was chosen because my mom loved Breakfast at Tiffany's.) And some couples have told me that the book helped them make it through periods of separation, there were quite a few emails from members of the military and their spouses a few years back. So it has had some effects in the world, very personal and small but real."
Yes, I did indeed send a photo of my literary-inspired tattoo to the author who strung those meaningful words together. Even after being exposed to that level of craziness, Audrey Niffenegger was gracious in her responses, and I she has my gratitude for taking the time to respond!
If you want to get a sneak peak at the first 25 pages of the sequel, as well as grab an ebook copy of
The Time Traveler's Wife
for a very reasonable price, head over to
Zola Books
right now. Let me reassure you that it is so worth a reread!