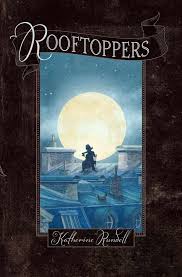 This book started off with a definite quirky vibe (which I like, but some people strongly dislike), but then it changed into an interesting, historically set adventure story with just a tiny bit of quirk — mostly due to the unconventional characters and setting — that shouldn't be a hindrance to anyone.
Rooftoppers was so well written that I found myself marking passages throughout, so I'm going to try to center my review around some of author Katherine Rundell's words to give a proper feel for the novel.
The first sentence of the novel shows the quirkiness, "On the morning of its first birthday, a baby was found floating in a cello case in the middle of the English Channel."
Charles Maxim who had "never really known a child before" (page 3) finds her and names her Sophie and takes her as his own. He is a kind and loving father, understanding and even assisting Sophie when she decides she's ready to find her mother, since she has never come for her as Sophie assumed she would. A theme running throughout the novel is Charles' encouragement to Sophie to "never ignore a possible." A quote I marked which showed his sweet character and support is this:
I know it's hard, Sophie. Life is so hard. My God, life is the hardest thing in the world! That is a thing people should mention more often" (page 30).
So, they go to Paris to try to find her mother. How does Sophie find Paris? "Sophie looked, and gasped. Below her feet, Paris stretched out toward the river. Paris was darker than London: It was a city lit in blinks and flickers. And it was Faberge-egg beautiful, she thought. It was magic carpet stuff" (page 157).
While she's there on her quest, Sophie befriends the "rooftoppers," homeless Parisian children, who have to stay out of sight or risk being locked up in an orphanage, which leads to a fun setting and a series of adventures. This is an original, imaginative and touching story that I enjoyed a lot.
CONTENT NOTES:
There are some interesting gender issues explored here that you might want to discuss with your child. It's fitting for the time (in the 1930's, I think), but it could still be troublesome if the child didn't put it into context. For example, especially as Sophie gets older, the social worker is very concerned with Charles raising a girl all alone, because it isn't proper for a man. She also has all sorts of thoughts about what Sophie should and shouldn't do — like wear pants and be a musician — because it's not something girls do.
There are also a few mild swear words scattered throughout, which I'd prefer to avoid in children's fiction, but it seems to be a trend that is increasing.
This is a Cybils nominee in the category for which I am a panelist. My opinion does not represent the panel or the Cybils.