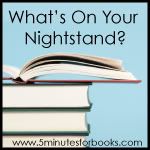 Last month I posted
my reading list
, consisting mostly of
Cybils
Middle Grade Fiction, right here on the main post. It seemed pretty daunting, but guess what? I read all of those books and more. Well, to be fair, I didn't finish a few of them, but I did read a good enough portion to form an opinion.
This month? Well, I actually started an adult fiction book by Lisa Jewell, Before I Met You, because I needed something different. So I'll probably finish that, while still reading plenty of middle grade fiction including
There may be more. I may not get to all of them. We'll see.
And now it's your turn. Please link up a post and tell me what you've read this last month OR what you are planning to read this month (or both).
Check out our current giveaways. Subscribe to our feed. Follow us @5M4B on Twitter or on Facebook.