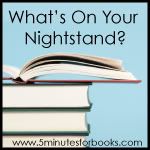 I'm not going to write up my own post at Snapshot, but I will share a bit right here what's on MY nightstand.
I just finished More Things in Heaven and Earth, the first in a sweet new (clean) series (very Mitford-esque), just in time to get my review and giveaway up on 5 Minutes for Mom. So check it out.
Other than that, my reading is completely centered around Cybils Middle Grade fiction titles. You can look at the list I'm trying to tackle HERE. Here are some that are literally on my nightstand, and in my ereader, thanks to ebooks in my library, and loaded up on my ipod or on audio CDs in my car):
Wow. Seeing those is giving me heart palpatations, because that's not even all of them by a longshot. Like those are the books that I hope to get through in the next two weeks! But I'm already halfway through 3 of them, and they are children's novels, so it's not as hopeless as it seems.
What about you? Please link up a post and tell me what you've read this last month OR what you are planning to read this month (or both). I love it when you do!
Check out our current giveaways. Subscribe to our feed. Follow us @5M4B on Twitter or on Facebook.