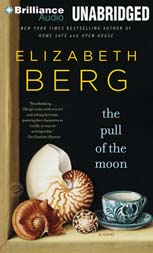 Elizabeth Berg writes thoughtful, honest women's fiction. I've read a few of her novels and even a book she wrote on writing that sort of honest heartfelt material. The Pull of the Moon is a little different. Though it is fiction, it feels like memoir.
Fifty-year-old Nan is in that stage of reevaluating her life. Menopausal and empty-nested, she has a lot of thinking to do. She leaves a note to her husband Martin saying she'll be back in a few days. The rest of the novel is told in the form of her letters to Martin from the road. She asks him not to call her, and she doesn't call him. She needs this time. She needs to run away.
As women we go through so many different phases of life, from leaving home to getting married to having children. We change careers or quit careers, and those children grow up, bringing change to the whole family as they change, and then they eventually leave. I'm not sure if men feel these changes as acutely as we do.
We can't all run away, and maybe most of us don't really want to, but fiction is all about living vicariously. Nan uses time alone to process and goes outside her comfort zone talking to new people, strangers, who she sees in a different way than she might have before. She wonders how they see her too.
This reminded me a lot of A Year by the Sea and a Walk on the Beach, Joan Anderson's memoirs, to which I also listened on audio, but the tone of the novel is hopeful throughout, so it was a bit easier to digest. Perhaps that's the beauty of fiction.
NOTES ON THE AUDIOBOOK:
This type of novel — first person, exploratory — lends itself well to audiobook adaptations. Memoir and first-person fiction are among my favorite types of audiobooks because it's like I'm sitting with a friend and she's talking to me.
The reader is the author Elizabeth Berg. I didn't even remember that until I looked. It definitely worked in this type of confessional novel. You can hear a sample at the Brilliance audio site.