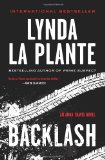 Late one night, a routine police stop after a patrol sees a white van being driven erratically leads to a shocking discovery in the back–a woman's corpse, head bashed in, still warm, stowed amongst balloons and other items for a children's birthday party service. The driver, Henry Oates, when under questioning cheerfully ties himself to two other murders, one a 13 year old girl who's been missing for 5 years. Next morning he retracts his statement, claiming to just remember information from missing-person posters. Could he be their man?
DCI Anna Travis brings her own grief to the proceedings. Just a few years earlier, her fiance was murdered by a suspect she was trying to convict. The fact that the culprit is now in jail brings cold comfort, and she occasionally finds herself reacting to her work with strong emotions. Her immediate supervisor, James Langton, has just had knee surgery and is supposedly on medical leave, but the 13 year old missing girl was his case and he's never forgotten it, or the heartache of her family. He's soon highly involved in the investigation.
Anna proves herself to be very good at a sort of lateral thinking, which leads to more and more clues and discoveries. Although the team of police men and women are hard at work, she brings in new evidence from following the tiniest of leads. As the noose begins to tighten, figuratively, around Oates' neck, he responds in ways that could lead to more problems, and put more people in danger. BL at the end discovers a serial murderer, one who preys on women. It does a good job of compassionately showing what might lead a man to become a monster, while never allowing sympathy to interfere with a desire to see justice done for innocent victims.
I have mixed feelings about this book. On the one hand, I had to give it the 50-page try, because the writing, especially at the beginning, seemed very rough and too matter-of-fact, very much "she did this so he did this." However, once I got into it, I found the plot gripping enough that I had to keep going to see how it ended. Fans of police procedural books will love Backlash
, as it shows the painstaking and occasionally back-breaking and heart-breaking work that goes into seeing criminals brought to justice. It's the 8th book about DCI Travis, and although I haven't read the others, that wasn't a problem.
Backlash
shows in intimate detail how a team of dedicated policemen and women can bring a killer to justice, even though he attempts to dance out of their reach. As such, it's a fascinating book.