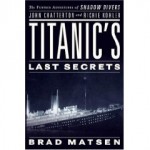 I wasn't sure whether or not I would enjoy this book when I received it. The title was interesting. The subject matter was fascinating. I love history, so why not?! It would all depend on how it was written. I had not previously read any books or done any research on the Titanic and I don't consider myself a "Titaniac" so it was a toss up on whether or not I'd really get into this. I'm surprised and happy to report that I not only enjoyed it — I LOVED it!
After the wreck of the Titanic was discovered in 1985, a reporter by the name of Robert Ballard was quoted as saying, in regards to the media hype and attention the discovery received: "When you go down there, there's stuff all over the place. It hit an iceberg and it sank. Get over it." The New York Times responded by saying, "There is really no getting over Titanic . . . at least not where the human imagination is concerned" (Page 226).
Almost one hundred years after the Titanic sank, it still holds public fascination. Of course, this morbid curiosity, if you will, was aided by James Cameron and most Americans will forever envision Leonardo diCaprio facing the wind screaming about being king of the world. Why is it that we cannot get enough of this tragic accident? For those who cannot – I present you with this book.
Much has been written and theorized as to what made the giant ocean liner sink (and at such a quick rate of speed) killing over 1,500 people in those icy cold waters. Two men in particular, John Chatterton and Richie Kohler, were enthused about ship wrecks and were always looking for a good story. Out of the blue they were contacted by a Philadelphia attorney by the name of David Concannon who, on a previous dive down to the Titanic, had seen some ribbons of steel that he believed held some previously undisclosed answers as to what caused the catastrophic demise of the Titanic. On a gamble, Chatterton and Kohler decided to do what was necessary to explore the underground ruins and see if they could form a new conclusive theory as to why the Titanic sunk and sunk so quickly. This book holds the findings of their underwater explorations and testing.
Although the book is technical to a degree, it is written in such a way that any member of the general public could easily grasp the concepts. (Explaining it, however, is an entirely different matter. I'm at a loss — but I do understand it which is saying something.) This book is downright fascinating. It's gripping and it's intense. In order to explain their conclusions, the book begins at the beginning of Harland and Wolff, the company that built Titanic and her sister ships, the Olympic and Britannia. Various persons responsible for the building all of three trips are portrayed in this book. Stories of the passengers on board the night the Titanic sank are listed. It is also a haunting work.
You do have to work around some foul language. It's not so prolific as to be distracting. You should just be aware that it exists. The content of the book is generally respectful except when describing the wit and banter between members of the modern day dive teams. The humor and language of the modern age isn't quite as respectful but it occupies very little of the reader's time and wasn't enough to make me want to stop reading. On the contrary, this particular study of the Titanic made me want to keep reading until the very end.
The implications of this book are overwhelming, I know, as are my thoughts about it. It is a lot of information to take in, in a mere 276 pages. But so worth the time and effort. For any history buffs, "Titaniacs" or otherwise, I heartily recommend Titanic's Last Secrets. It's a different sort of read but I think you'll like it.
Carrie comes by her book obsession honestly, having descended from a long line of bibliophiles. She blogs about books regularly at Reading to Know.