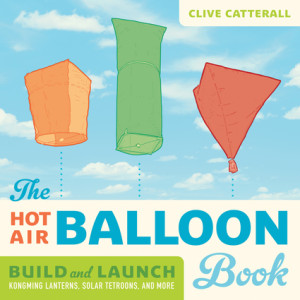 I will readily admit that I am a sucker for science books. I love learning facts that my children can appreciate and getting them excited about this knowledge, too. The Hot Air Balloon Book: Build an Launch Kongming Lanterns, Solar Tetroons, and More by Clive Catterall is right up my alley. I know the wee ones have loved creating and shooting off their own rockets, and somehow hot air balloons are even cooler.
The book provides detailed instructions on how to create all sorts of different hot air balloons from the basic trash bag balloon that I've seen before to more unique ones like the UFO balloon. The book starts with a history of balloons from uses in festivals to weapons to carrying passengers and how each developed – along with some notable failures that are interesting to read about.
The meat of the book, however, is focused on building your own balloons. There are chapters before and after the section of specific balloons that deal with how to create and fly your balloon and how to problem solve issues you may be having. I will admit that the sheer number of tools required to build and launch your own hot air balloon is daunting. This isn't a go out in your backyard one afternoon kind of activity, but it's a great project whether it be for Boy Scouts or high school physics. In fact, a friend of mine and I have a date to build some of these balloons and then launch them with our children, and we are beyond stoked.
Having such detailed instructions helps me, as I haven't before built a hot air balloon, and I appreciate knowing all the pitfalls before I start. It gives me a lot of confidence before starting. Each chapter to build the balloon has everything you could possibly need from the design and science behind the balloon – how and why it works – and then a second part with the detailed instructions on how to build it. When I say detailed, I do mean detailed. The chapter on the trash bag sausage is almost twenty pages long with drawing and written descriptions.
Written by Michelle who loves having a friend who is a high school AP physics teacher who gets just as geeked out over projects like this as she does. See what else Michelle gets geeked out over on her blog Honest & Truly! or follow along with her on Twitter where she is also @HonestAndTruly.