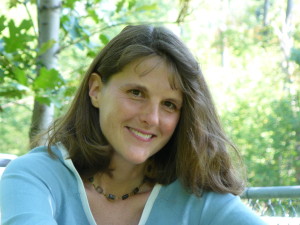 Editor's note: We are happy to welcome picture book and children's fiction author Kate Messner, who is contributing this guest post. Be sure to check out Nancy's review and giveaway of Sea Monster and the Bossy Fish and Sea Monster's First Day over at 5 Minutes for Mom.
There's something about reading a story together that opens up the floodgates for conversations. I've seen it over and over again with my kids, whether they were toddlers wondering what it would be like to live in an airport because you don't have a house (Eve Bunting's Fly Away Home) or older readers thinking about the challenges that classmates with disabilities face (Sharon Draper's Out of My Mind). The books we read together get us talking about issues that transcend that single story within the pages.
I hope so much that Sea Monster and the Bossy Fish will be one of those books for families. It's loaded with fishy humor (and more than its share of aquatic puns!) but beyond the fin jokes, I think families will find a lot to talk about in Ernest's story. In Ernest's first adventure, Sea Monster's First Day, he encountered all the challenges a young reader might face on the first day of school – anxiety over fitting in and making new friends. In Sea Monster and the Bossy Fish, Ernest is no longer the new kid at school; there's a new fish who's come from a different school, and he's–well–pretty bossy.
In Sea Monster and the Bossy Fish, Ernest has to navigate the tricky waters of dealing with a new friend who has a very strong personality – he's well on his way to becoming a bully – and needs some lessons on how to be a friend. Ernest is especially troubled when the new fish starts his own super-cool club but decides that not everyone will be included. Speaking up when friends are being picked on or left out takes courage and creativity in the world beyond storybooks, and Ernest provides kids with some ideas for how to do that in a way that's friendly and fair.
Reading this book together can help kids to develop great empathy for their classmates. A simple pause with a question – "How do you think that made the other fish feel? – gets young readers thinking about the consequences of bullying behavior and builds empathy that they're bound to remember when a "bossy fish" situation arises in their day-to-day lives.
Role-playing can also be a powerful conversation starter along with this read-aloud. There are numerous situations in the book that invite the question, "What would you do now if you were Ernest? What might you say?" Giving kids the opportunity to act out what might happen on the next page gives them practice in dealing with the bossy fish and bullies that may pop up in the real world and makes the idea of standing up for friends who need help less intimidating.
Those home conversations – whether they happen at the dinner table or curled up on the sofa with a good book – arm kids with strategies and support for dealing with situations at school and on the playground. Books remind us that they're not alone when they speak up for their friends and speak out against bullying. Ernest and a host of other bookish role models are right there beside them.
You can even print out a Friend Fish pledge for your child to sign as a reminder of their promise to be a friend.
Has there been a book that has sparked conversations with your children or helped to teach them empathy for others? Join the conversation down in the comment section.
Check out our current giveaways. Subscribe to our feed. Follow us @5M4B on Twitter or on Facebook.