Eragon was one of the first "big" books I read aloud to my kids, and we loved it. We devoured the last few chapters, skipping history and science for the morning and reading straight through for two hours. Noah was bouncing on the edge of the couch during the final battle scene, waiting to find out what happened.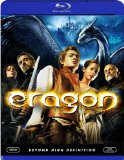 Of course, they wanted to watch the movie, but I was a mean mom and made them wait until we finished reading the book. A week after we finished reading it, we rented the film. Now, if we had not read the book, we might have enjoyed the film. But since we had, the film was a huge disappointment.
I don't expect film adaptations of books to be perfect. I know that film-makers are under time constraints and other issues that make cutting things necessary. But I've also seen films where the producers/writers/directors have managed to cut the book down to film size without losing much of the character development or major plot points — the Harry Potter movies, for example.

(If you haven't read Eragon or seen the film and don't want anything spoiled for you, stop reading. I'm about to go on a rant about how the film managed to take a brilliant book and utterly destroy it.)
The book is a coming-of-age story before it is anything else. Yes, there is a dragon, there is magic, there are elves and dwarves, and the evil Shade. But through the plot, Paolini shows Eragon grow and change. He comes to accept the responsibility that has been placed on him by being a dragon rider. He would much rather go home to the farm and live a normal life, but that path has been closed to him. He has to decide to either run from the evil king Galbatorix – probably for the rest of his life – or join the Varden, the rebellion, and fight for what's right.
He is guided in this by Brom, an old rider who was chosen by the Elves to train the next dragon-rider. Brom becomes a father-figure to Eragon, training him in sword-fighting, teaching him the ancient language, helping him develop his magic, modelling maturity and wisdom. When Brom dies, it is a devastating event that helps form Eragon's decision to join the Varden.
Okay, here comes the book vs. movie part.
~When the dragon egg hatches, Eragon feeds her, cares for her, hides her, and peppers Brom with questions about the ancient Riders. He hears about the ancient dragon Sapphira, and decides on this name for his new companion. As she grows she begins to be able to communicate with him through his thoughts. This process takes weeks and weeks. In the movie, when the baby dragon flies for the first time, she is hit by some magical lights and suddenly becomes full-grown. She lands at Eragon's feet, and announces that her name is Sapphira. At this point, while watching the movie, Noah is looking at me in disbelief, unable to comprehend what they have done to his precious book.
~Brom is a major character – the man who guides Eragon – and he appears through 3/4 of the book. When he dies, it is heart-breaking. In the movie, Brom is only with Eragon for a couple of weeks, so when he dies, it was a major "who-cares?" moment. I was left wondering why they would hire a brilliant actor like Jeremy Irons only to kill him off a half-hour into the movie. There is no character development, no growth in the relationship between Brom and Eragon. Blech.
I could go on and on – Arya, the elf, who in the movie didn't even have elven ears and who was conscious throughout the movie even though she was unconscious in most of the book; Murtagh and his desire to avoid the Varden at all costs in the book as opposed to his eagerness to get to the Varden in the movie; etc., etc., etc. Noah, my ten-year-old, who loves all things dragon and fantasy, summed it up, "They really messed it up, Mom."
Read the book; skip the film. And if you've already seen the film, read the book anyway – it's much better.

Carrie Kitzmiller is a homeschooling mom of four and a freelance writer in her "spare" time. When she's not correcting grammar and math papers, reading aloud, scaling mountains of laundry, keeping her house clean (enough), or writing, you can find her with her nose in a book.
You can read her blogs at Mommy Brain and Books and Movies.