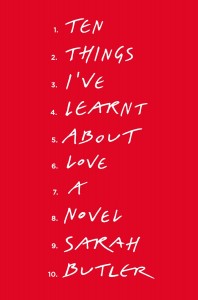 Alice, the youngest of three daughters, lost her mother to an accident when she was quite young. In fact, her mother was on her way to pick up Alice from a dance class when the crash occurred, and all these years later, Alice still wonders if anyone in the family blames her for the accident. While her sisters have found their own paths to typical adult lives, Alice's path hasn't been quite typical, and when the call comes that her father is very ill and close to death, Alice is far from her London home in Mongolia. She returns just in time to say goodbye, and in her return, she may also find clarity to what should come next in her life. Sarah Butler's Ten Things I've Learnt About Love focuses on both love and loss, and the sacrifices made in the most selfless acts of love.
Alice is the focus of just every other chapter in this unique novel, for in the others readers meet Daniel, a homeless man whose own heartfelt search is gradually revealed. Though he has lived on the streets for years, there was a time when he was successful and in love, but his story includes significant loss as well, and his singular goal in life is to find the daughter he was never allowed to meet. The chapters on Daniel reveal a very unique character, a a man who sees letters as colors, a man who makes tiny pieces of art from tidbits of trash and random pieces of material he finds on his endless walks around London.
In addition to Alice and Daniel, London itself figures in their stories as a character in its own right. Though I know nothing of the city and have never traveled there, London came alive in my head with Butler's descriptions, and the setting holds so much more meaning for each of the characters than a simple backdrop for their stories. I imagine that the reading experience will be even richer for those familiar with the streets and landmarks mentioned!
As Alice and Daniel go about their lives each carrying a fair share of pain, they are both on the precipice of even more potential or probable loss. Each in his/her own way, the characters of Alice and Daniel are easy to sympathize with, and also easy to question– how did they get to these points in their lives? But sympathy and empathy will likely win out for most readers, as they learn more about their plights. I became quite wrapped up in Daniel's quest, hopeful for him, and eventually sad but understanding about his actions in the end. The lists that comprise the chapter openings give bullet-pointed tidbits of insight into each character's mindset at that juncture and are a unique and interesting way to convey this in a novel. Ten Things I've Learnt About Love makes for an emotionally rich read about family, love, and what it means to be home.