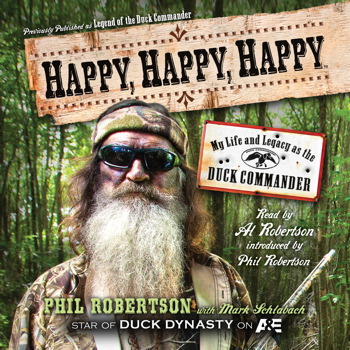 I listened to the audiobook of The Duck Commander Family a few months ago. When I saw that Phil Robertson had written his own book, Happy, Happy, Happy: My Life and Legacy as the Duck Commander, I decided to give it a listen as well.
I did enjoy Willie's book about the family, but I didn't like Phil's quite as much. It felt like more of a man's book (keep reading for why). I also think that because Willie is in my generation and stage of life, it held more interest for me. That said, while I was reading this book, I kept thinking that my dad would really enjoy it, and in fact, I'm going to buy it for him for his birthday (shhh….don't tell).
In Happy, Happy, Happy, Phil Robertson goes back to his early days growing up in Louisiana, then his time playing college football (and doing some college partying), his early years of marriage to Kay and how those hard times brought him to his knees, and to his Lord.
Hunting is a consistent subject he addresses, and he shares even more specifically and in more detail than on the A&E show, about which I didn't care, but would interest anyone with any type of hunting background or interest.
He also talks about the early years of Duck Commander, before Willie took over, and any entrepreneur would definitely be inspired.
There's a lot more talk about faith in this book as well. Phil talks about his role as the spiritual leader of the family, and also his call to share the gospel with everyone.
AUDIOBOOK NOTES:
The book is read by the beardless brother Al Robertson, with a short intro by Phil himself. He does a fine job. Check out the Simon & Schuster Audiobook page to hear a sample of the audiobook and to watch a video trailer of classic Phil-osophy.