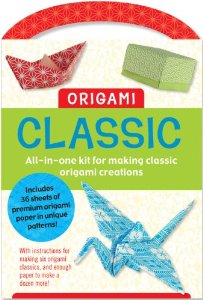 If you are looking for something to keep your kids entertained for any variety of reasons this summer, but aren't really interested in the latest video game, then you might consider picking up either a Classic Origami Kit
or the Animals Origami Kit
for your children to work on and play around with.
Each of these boxed sets include six origami designs. In the Classic Origami Kit
you can learn how to make a boat, a box, a crane, a flower and a fortune teller. The Animals Origami Kit
contains instructions for how to make an elephant, a fox, a horse, a jumping frog, a mouse and a pig. Both sets come with very high quality origami paper to practice on which is great because you are not required to search for additional products in order for your child to complete this activity.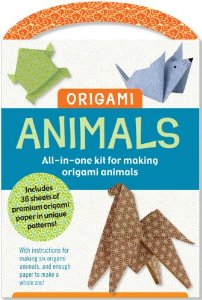 The instructions included are given on a fold-out sheet which I think is great because you are not having to keep track of individual sheets which are more likely to be lost. Each set is also packed in a cardboard carrying case which keeps your origami papers nicely stored while they are awaiting their transformation into boats and elephants or whatever else you might dream up! The instructions are easy to follow and clearly laid out. I think any child aged 7 and up should find following these instructions easy and the folding to be quite doable. A younger child can still manage, but might need an adult's assistance in accomplishing all of the folds. There are pictures to illustrate each step in the folding process as well as written instruction.
The wonderful thing about both of these sets? They are remarkably reasonably priced, being less than $6 each on Amazon!
If you aren't in need of a good summer activity, keep these in mind for stocking stuffers at Christmas time! Peter Pauper Press has packaged these beginning origami sets very well and my children and I are enjoying learning the art of origami.
Many thanks to Peter Pauper Press who sent a copy of both of the above sets in exchange for my honest opinion, shared in this review. I cannot think of any negative aspects of these sets. They are perfect for beginning origami learners.
Carrie blogs about books and life over at Reading to know.