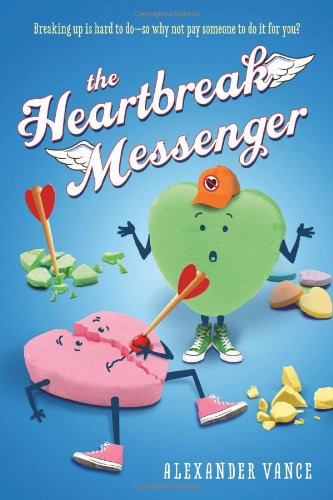 The Heartbreak Messenger by Alexander Vance has one of the more unique plots of the middle grade novels that I've read recently.
A middle school kid who stumbles upon a business of being the one who delivers the breakup message, when a friend's older brother asks him to do that for him, brings in some high school elements, but filtered through the eyes of 12-year-old Quentin. I liked Quentin's voice, and I thought that this was a really interesting concept, but that plot also makes it sort of a hard sell for the target audience (who is the target audience?).
My 9-year-old son liked the cover and the blurb on the back. Though I think he's a little young for it, hearing his interest, helped me understand that other kids would like it.
Sometimes writing a review helps me solidify my thoughts. While this book didn't totally wow me, the characters were memorable, and I think that an older middle grade audience (probably 5th to 8th grade), would probably like the humor and school drama and very unique plot to this one.