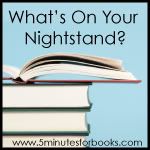 Well thanks to Carrie for the reminder that today was the 4th Tuesday (actually, she reminded me yesterday, so we're on time and everything!). I've been in a whirlwind of activity the last two weeks. I have been reading some — in fact I enjoyed a couple of hours of reading therapy Saturday, reading a novel by the pool in an effort to purposefully decompress, and it worked!
That said, I don't have the time to write up my own Nightstand post, but I'm looking forward to reading some of yours.
So go ahead and tell us how your summer reading is going. Write up a post telling us the books that you just finished, or the books that you plan to read this month.