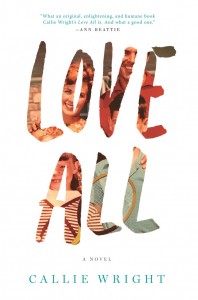 Callie Wright's debut novel Love All opens with the unexpected death of Joanie Cole. Though she was in her seventies, everyone in the family always assumed it would be her husband Bob, twelve years her senior, who would pass first. With her death, plans must change, and Joanie and Bob's daughter Anne now feels obligated to extend the invitation to live with her family to her father, after long thinking it would be her mother who would eventually move in. With Joanie's passing, long-held tensions between Anne and her father resurface, including some secrets both Bob and Anne would rather not come to light.
Set in the 1994, much of Love All brings readers back to the early 1960s through Bob and Anne's memories of the time of her childhood in Cooperstown, NY. Though known to most people as the home of the National Baseball Hall of Fame, to its residents, it's a lovely community in which to live. When the novel The Sex Cure was published in 1962, however, much was revealed about the actual undercurrent of infidelity and relationships among the Cooperstown community. Written as a roman à clef, or a thinly veiled piece of fiction based on real life, the author lifted the curtain on many of Cooperstown's most well-known couples, and many marriages and families suffered long-lasting consequences.
The novel The Sex Cure played a key role in Anne's understanding of her parents' relationship, coming out as she was just becoming aware of her father's philandering ways. When a copy of the novel is found under Joanie and Bob's bed after she passes, both Anne and Bob are forced to face their histories and the secret they share about aftermath in the town after the novel was published. Anne, however, already has a full plate in her own marriage, trying to navigate through her relationship with Hugh that may have lost its way a long time ago while also trying to shield her own teenaged children Julia and Teddy from the pains she experienced as an adolescent observing her parents' interactions.
Strained family relationships are at the heart of this novel, with the perspectives of all the key characters having a turn in the spotlight, shedding light on individuals' motivations and actions. Not quite a happy read, but an interesting study in characters and family drama, Love All has received much attention as one of this summer's new releases. And, to add to the interesting factor, though this is a fictional novel, the book within the book, The Sex Cure, was actually a real thing published in Cooperstown in 1962!
We have a copy of Love All up for grabs in today's giveaway. Leave a comment to be entered, US addresses only, please. We'll announce our winner on 7/31. This giveaway is now closed.
Congratulations to:
Check out our current giveaways. Subscribe to our feed. Follow us @5M4B on Twitter or on Facebook.