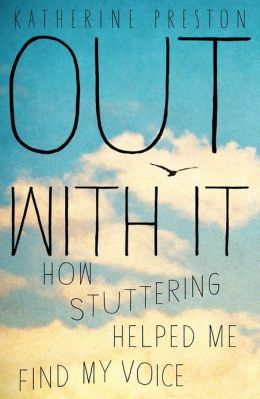 This is the sort of nonfiction that I enjoy, a memoir — one borne from Katherine Preston's personal experience as someone with a stutter — combined with research and experience with past and current treatments. She seamlessly blends her own experiences with the personal stories of other people who stutter, including celebrities and others in the public eye.
Out With It: How Stuttering Helped Me Find My Voice was incredibly readable. I learned a lot about stuttering and learned how much the field of medicine doesn't really know about it. I recommend this for anyone who would like to learn more about the condition, or anyone who might want to know what it's like to be on the other end of the blocks and repetitions that torment those who stutter. The author addresses the issue of what one listening is to do, and not surprisingly, it varies from stutterer to stutterer. What makes one comfortable, such as the listener filling in the word for them, drives another crazy. But across the board, they do wish people would treat them with respect and be patient.
If you know someone who stutters or you stutter yourself, this memoir will resonate with you. But if you just want to learn more, or have more understanding, then I think it's a book that you'll enjoy.