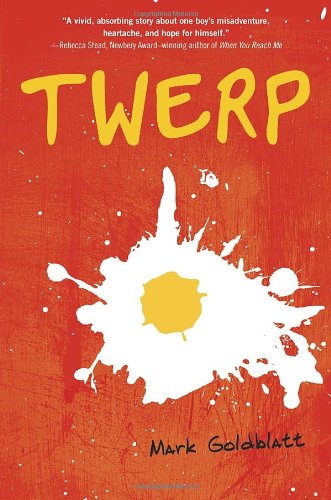 Twerp is Julian's story about the events that took place on the block in Queens, 1969. We (the readers) don't know what exactly happened, but we know that his 6th grade English teacher has required him to write about what happened.
He and the other guys were somehow involved in Danley Dimmel getting hurt, and from the beginning Julian says things like he wishes it hadn't happened. It takes him a while to get around to that which happened over Christmas break the incident that brought on this assignment, but in the meantime, he writes about what happens on the block and at school, all the way through the end of the school year. These include some hijinx that only 12-year-old boys find fun, and also first crushes and other school drama.
I did find it slow-going at first, but I'm so glad I stuck with it. By the middle of the book, I was charmed by Julian, as well as his big sister, the girls at school, the new man-child from Guatemala, Eduardo (LOVED this character!), and the guys from the block and schoolyard.
I had thought that it was a typical bully story, albeit one focusing on a bully who learns a lesson and reflects on the consequences of actions, but that is not at all how I'd describe this story. It's soon clear that Julian is no bully. He doesn't always use the best judgment, but what 12-year-old boy does?
Twerp is sweet and tender and funny, and I recommend it to boys and girls, probably 4th or 5th and up. The author Mark Goldblatt dedicates it to the boys on the block, by name, but adds "Don't try to figure out who's who," indicating that the story is indeed rooted in his own history, and I think that's what makes the characters and situations ring so true.