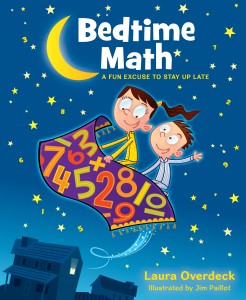 Bedtime Math: A Fun Excuse to Stay Up Late (linked to my review) is Laura Overdeck's newly released children's book focused on finding ways to make math fun and approachable for children. I've been raving about the book to everyone I know since I read it, and I'm personally happy to hear that it's been so successful to late. As part of her blog tour, and Laura graciously answered some submitted questions.
Why bedtime math?
Most parents know to read to kids at night, but what about math? For some reason we don't think to put numbers and math on the same fun footing as pleasure reading. Just as the time-honored ritual or reading books at bedtime gets kids to love books, math can become a beloved activity that kids consider a treat.
How do your children feel about their special bedtime routine now being such a hit with so many other children?
The kids definitely get a kick out of it, partly because they're the inspiration for so much of the material. I sometimes try out daily math-problem material with them at breakfast, and if they say "Hey Mom, that just isn't funny," I cut it from the deck. They're a great focus group!
How do you recommend that parents and children utilize your book?
While we're called Bedtime Math, this book is fun at any time of day. We've heard that kids are picking it up in the afternoon and refusing to put it down for 45 minutes, so if you think your child will get sucked in, leave lots of time! The key is making math part of your routine, and the book is a great jumping-off point for using our fun daily math problem on our website.
Where do you get your inspiration for the math problems and the stories/facts that go along with them?
I get ideas just wandering through the day. Almost any object or activity involves math in some way; the trick is choosing which subjects kids will find familiar and entertaining, and parents will find interesting, too. We want and need parents to enjoy the bedtime math ritual as much as the kids. Our email subscribers often suggest topics, and we always give them a shout-out – kids love seeing their names online (just first name last initial, of course!). We invite everyone to submit ideas any time! And for the book, my three lively children inspired a lot of the wacky content.
What brought about your own love of math?
I'm fortunate to have grown up in a household where math was fun. My parents just wove math casually into our daily activities, whether it was baking with Mom or helping out Dad with carpentry projects in his workshop. I'll note that we didn't have flash cards or drill with worksheets.
What advice would you offer to parents whose children claim to hate math?
Fearing or hating math is nothing more than a mindblock that has to be pushed out of the way. Your child can do math and simply has to rediscover that math is a fun part of their playtime. If they learn to love it, they'll embrace it and work through those roadblocks. As a starting point, you can identify their two or three favorite things to do and put a math slant on it. Baking is an obvious one (lots of fractions and volumes) as are building toys (Lego's rows and columns of bumps are all about multiplication and area). Start small, with simple comparisons of big and small, simple addition, etc. and work your way up will give kids the confidence to keep going. Readers of the Bedtime Math book and daily email say they start with the easiest level – the "wee ones" counting on fingers – because it feels great to get that first question right as a running start.
What is the best response you've had to your book since it released?
We got a coveted starred review from Publishers Weekly, where they enthused about the book's "ripped-from-cable-TV themes" and "breezy reality topics." That captures exactly what Bedtime Math is: nothing like a textbook! Also, hearing from readers that their kids are reading the book and then asking for more math is incredibly gratifying to hear, and we hope that feeling takes hold permanently.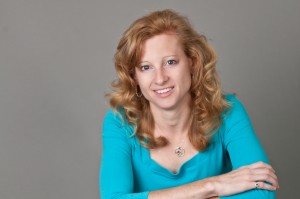 5 Minutes for Books is happy to be a part of the Bedtime Math blog tour. Check out the next three stops on the tour for more fun and information about Bedtime Math.