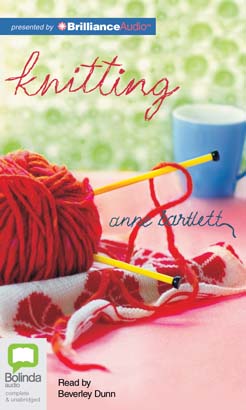 Knitting by Anne Bartlett begins with Martha and and Sandra meeting as they both give aid to a homeless man who has had a heart attack. These characters seem to have nothing in common — Sandra being a well-off but lonely widow, still adjusting to her husband's death, and Martha being a working class woman who puts following her heart over money or praise, both of which she could easily attain with her skillful knitting.
Sandra does some knitting, but has more of a scholarly interest in it, researching and writing the history of textiles. When the two forge an unlikely friendship, Sandra proposes a business relationship as well, which might end up ruining the friendship and Martha's peace of mind as well.
Cliff, the homeless man, figures into the mix as well, pursuing Martha in a romantic way, yet accepting the friendship that she's willing to offer instead.
I'm not a knitter, nor interested in the history of textiles, both of which are woven (no pun intended!) effortlessly into the plot, but it made for an interesting backdrop. The characters are all a great mix of stereotypical and surprising.
AUDIOBOOK NOTES
Beverly Dunn done a great job narrating the book. According to her bio on the Brilliance Audio book page, she's Australian, but she did the British voices totally convincingly. This was the kind of slowly unfolding story that I prefer on audiobook over reading. This book came out in 2005 in hardcover, but this is a new audio version.