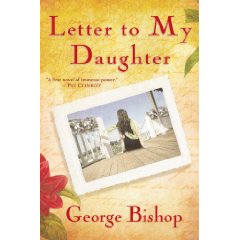 As the mother of a tween daughter, I often find myself wondering how exactly I've turned into my mother. I find myself saying and doing things that I know might end up pushing myself away from her, which is the last thing in the world that I want.
In Letter to my Daughter, Liz, a 15-year-old girl, leaves home after a fight with her parents. Laura, her mother, sits down to write her daughter a letter to bide the time as she waits for Liz to return. She also wants to make sure Liz knows that contrary to her actions, she does know what it's like to be a teenager. She ends up telling her daughter about her own first love. She shares honestly, about mistakes and things that her parents viewed as mistakes that she herself did not regret.
As she writes, she remembers the Vietnam war of her own teen years as the current conflict in Iraq is reported in the news.
It's a short simple story, but the writing is beautiful and the author drives his point home effectively.
The question is not whether or not to read it, but rather how a man, George Bishop, could write so intuitively about a teen girl and a middle-aged woman looking back on her teen years.
Letter to my Daughter is a short sweet novel that any teen girl or mother of a teen girl or a soon-to-be-teen girl (raising my hand) would enjoy.
Jennifer Donovan hasn't turned into her mother. Really. Read about her perfect life and perfect children at her blog Snapshot.