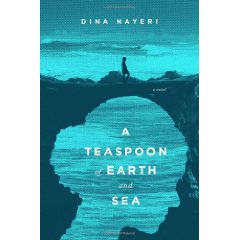 A Teaspoon of Earth and Sea by Dina Nayeri opens with "all that Saba Hafezi (age 11) remembers from the day her mother and twin sister flew away forever, maybe to America, maybe to somewhere even farther out of reach" (page 3).
The story progresses through the year 2001, using the perspectives of Saba's "surrogate mothers," friends of the family who help her in the absence of her mother, Saba herself, using past flashbacks and present events.
This is a great example of literature set in Iran. Saba and her friends deal with the influence of the conservative regime as they try to figure out who they are. Saba is caught in the middle of two worlds, as she and her family try to educate themselves as they hope for something more, yet she wants to fit in with her lower-class villager friends. Since she and her family are converted Christians, not Muslim, they are even more different in the eyes of the community, which also presents additional dangers.
She's trying to find the American dream, learning all she can about the culture through 80's music and television, from Michael Jackson to Family Ties. These help her imagine her sister's life in America, doled out in her mind in 22 minute sitcom episodes.
Critical to Saba deciding who she is and who she chooses to be is her figuring out what really happened to her mother and sister. Her figuring this out with the help of her own memories, family friends, and her father, give the novel a suspenseful tone that kept me wanting to read just one more chapter.
The pain and suffering that this group of people has gone through is staggering and heart-breaking, and seems to produce a depth of character that those of us in easy middle class America cannot truly comprehend. I appreciate seeing into this side of the world via great literature like this.
Great writing, interesting backstory and setting, and realistic characters make A Teaspoon of Earth and Sea a book I'm glad I read.