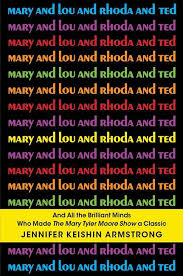 I was offered a copy of Mary and Lou and Rhoda and Ted: And all the Brilliant Minds Who Made The Mary Tyler Moore Show a Classic for review. I was somewhat ambivalent about it. I have many fond memories of watching Mary Tyler Moore throw that knit beret into the air as I watched reruns after school, but I wasn't sure I wanted to read a whole book about it.
But I do love interesting non-fiction — no matter what the category — so I thought I'd give it a shot. I'm very glad I did. This book was fascinating on many levels.
If you are a fan of TV writing or the evolution of women's roles in business (specifically Hollywood) in the 60's and 70's, there is definitely much that you will discover about this world, specifically the style and genius of James L. Brooks and Allan Burns and the many women they worked with — including Mary Tyler Moore herself — to create the quintessential nice career girl.
If you are a fan of the show, you will find out about the actors who play your beloved characters Mary, Lou, Ted, Rhoda, Murray, Sue Ann, Phyllis. You will learn more about their characters and how they were carefully written. You'll also learn why Rhoda's and Phyllis' spin-offs didn't work, and why Lou's did, but was cut short quickly.
I can't say enough about how much this book surprised me. I certainly enjoyed the show, but wouldn't call myself a super-fan, so this book is for anyone interested in the show or in this field at all. Jennifer Keishin Armstrong's writing is interesting, informative, and to-the-point, which made Mary and Lou and Rhoda and Ted believable and highly readable.
I'm also glad it sparked my desire to re-visit The Mary Tyler Moore Show. Read my thoughts on season 1 in my Books on Screen post (live on 6/6).