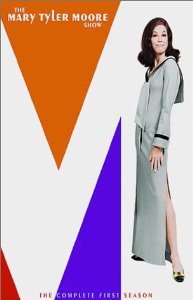 After responding to a review pitch for Mary and Lou and Rhoda and Ted: And all the Brilliant Minds Who Made The Mary Tyler Moore Show a Classic (linked to my review) for review, I promptly downloaded season 1 of The Mary Tyler Moore Show**. I invited my teen daughter to watch with me, wanting to know her thoughts on it, since I was her age or younger when I watched reruns of the beret-throwing "modern woman" who was going to make it on her own.
I was on the fence about the book. I remembered liking the show and was interested to read the angle about how Mary Tyler Moore (actually the fictional Mary Richards) changed the face of the culture, but I didn't know how much I cared. But as I said in my review of Mary and Lou and Rhoda and Ted, the book exceeded my expectations, and so did the show.
The show is relevant (even 40 years later — yes FORTY years), funny, smart, and clean. There are a few allusions to Mary's love life — tame by even "YA" media standards — and some over-imbibing, but it's a show that I'm proud to watch with my daughter. The sets and clothes are vintage, making them cool in the eyes of a teen.
I'm glad that I read the book and that I'm revisiting the series.
So I ask you — Are you a fan of old TV? Have you recently watched Mary Tyler Moore or something else you've enjoyed? Leave a comment and let me know. I'd love to know which shows you've found stand the test of time, or those that don't. You can also let me know how you find/watch these shows.
**I love watching old TV via Netflix or the free Amazon Prime instant video or to be able to purchase instant video on my Roku, so I ordered it online. However, at this time the first 3 seasons are under $10 on amazon (affiliate link), so I ordered seasons 2 and 3 that way so that we can keep watching. The digital price of almost $20 is a little steep for me to commit to continue watching, but to get seasons 2 and 3 both for that price, I'm in!