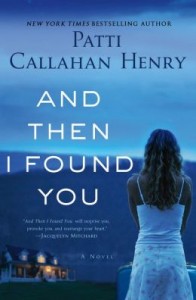 I've been in the situation Kate Vaughn faces in And Then I Found You by Patti Callahan Henry. She's living her life and in a relationship with Rowan, who absolutely adores her. She should love him and want to be with him, but she can't convince her heart to go along with her head.
There's a good reason for that (I never had a good reason). She has a lot going on in her head. Kate used to be Katie, dating a man she fell in love with when she was 13 years old, with him in law school and her graduating college with a degree in social work, she decided to take a job working with troubled teens at a camp in Arizona rather than hang around waiting for Jack Adams to finish his law degree, buried in books with little time for her in a city she didn't know.
That decision ends up changing so much in her life. She fell in love with the camp and the girls and the difference she was making. Instead of staying for the summer, she signs on for a full year – to the disappointment of her family and Jack. She keeps promising to come back and quit her job, but instead she continues to extend her stay. Jack finally writes to say that they should feel free to date other people. She thinks little of it until her sister writes her a letter and mentions that she saw Jack at a concert with a date. She flies to Birmingham to visit, and she and Jack make up.
When she refuses to quit her job and instead promises to be back as soon as she is able to get the next girl healed, Jack gives up. Katie's sister sends her the wedding announcement, and Jack is lost to her forever. Except that Katie got pregnant during that last visit to Birmingham, though it was too late to keep him from marrying Mindy. Jack and Katie decide to give their daughter up for adoption, a heart breaking decision, particularly for Katie.
That was 1995, a time the book returns to again and again to tell the story of how Katie became Kate and got to her life in 2010 as a 35 year old owner of a boutique in Bluffton, South Carolina, her hometown. It is all tied together by the first day of spring, a magical day for Kate – the day she fell in love with Jack and the day their daughter Luna was born. Every year, Kate and Jack exchange a letter on the first day of spring, their only contact since having decided to give Luna up for adoption.
Kate has so sealed her heart off after Luna that she can't quite give it to Rowan, much as she wants to.
And then there's Emily. She's 13 and adopted and a school project on genetics prompts her and her best friend Sailor to start investigating who her birth parents are so she can understand why they gave her away. You can see where this is going….
It's not an easy situation for anyone, with Emily's parents reluctant to give her access to her birth parents. Kate's family is ecstatic and wants to bring Emily into the fold. Kate is treading carefully, trying not to push too hard or not show enough caring. Jack has built another life and never told a soul that he has a daughter anywhere and is reluctant to open that can of worms. And Rowan is jealous of the connection he can see with Kate and Jack sharing a baby.
The remainder of the book focuses on fleshing out these challenges and how each of the characters deals with them. It's done with grace and charm and wit, especially amongst Kate's sisters and friends. The complications were handled beautifully, and there were parts that brought me to tears. It was a beautiful read, even though I disagree with the ending – and  I know there will be plenty of readers who don't.
Michelle could not imagine how to navigate the waters of a relationship amongst birth parents and adoptive parents and their respective families. She has enough keeping her busy with her nuclear family and the challenges they present. See what they're all up to on her blog Honest & Truly! or follow along with her on Twitter where she is also @HonestAndTruly.