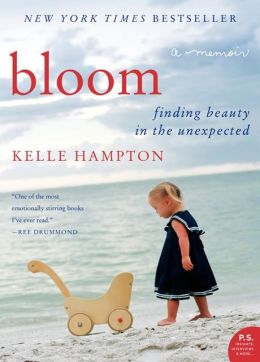 Kelle Hampton began chronicling her life as a mom on her blog Enjoying the Small Things in 2007 when her first child was still a baby. Little did she know that she'd taken the first steps toward building a massive online community for herself in years to come. When her second daughter was born in 2010, her life changed in a way that she didn't see coming. Her daughter Nella was diagnosed with Down syndrome, and she found herself writing about her parenting experiences with honesty and emotion.
Bloom: Finding Beauty in the Unexpected is her account of Nella's first year, pulling together some of that writing from her blog into a memoir filled with her gorgeous photography and a whole lot of love.
Read my full review of Bloom over on 5 Minutes for Mom, where you can enter to win a copy of this emotionally riveting memoir.
Check out our current giveaways. Subscribe to our feed. Follow us @5M4B on Twitter or on Facebook.