When my kids were b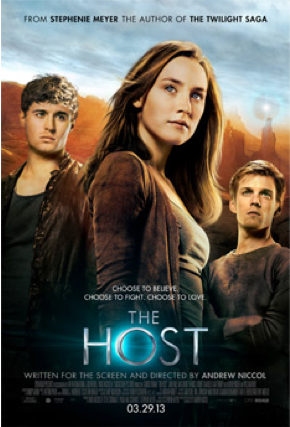 abies, there was a time or two that I braved the movie theater experience in a quest to be out in the world. One was a regular movie, which I was pretty sure my infant daughter would sleep through it (and thankfully she did), but the other time was "crybaby matinee," to which I took my son, knowing it would be okay if even if he didn't sleep like a baby.
It was fun, and I wondered why I didn't do it more often. Now that both of my children are in school all day, and I'm home several days a week, I still wonder why I don't escape to the magic of the movies more often!
But for those of you with little ones at home or who have a friend who avoids getting out because of the limitations of taking a baby to a mommy-themed activity, AMC Theaters is offering moms an opportunity for moms to see The Host movie on Tuesday, April 2, at noon.
What is a Bring-Your-Baby matinee?
Crying babies? Breastfeeding? Stroller parking? All of the above is allowed at these special showings for parents like you. See the movies you want to see in a baby-friendly zone. That means the lights are brighter, the volume is lowered, and poopy diapers are not frowned upon. Plus, you can feel good about having some fun! Part of your ticket purchase will go to the Will Rogers Institute, a nonprofit that provides much-needed equipment to neonatal intensive care units and promotes research, treatment and education on cardio-pulmonary diseases.
I hope to take my teen daughter to see the movie next weekend when it comes out. I read the book when it first came out in hardcover (read my review of the The Host book), and Amanda read it last summer and enjoyed it as well. I think it will look great on the big screen, and it will be a fun mother-daughter outing, but if she was 13 or 14 years younger, I might be planning to grab a friend and take in the matinee instead!
Synopsis:
What if everything you love was taken from you in the blink of an eye? "The Host" is the next epic love story from the creator of the "Twilight Saga," worldwide bestselling author, Stephenie Meyer. When an unseen enemy threatens mankind by taking over their bodies and erasing their memories, Melanie Stryder (Saoirse Ronan) will risk everything to protect the people she cares most about — Jared (Max Irons), Ian (Jake Abel), her brother Jamie (Chandler Canterbury) and her Uncle Jeb (William Hurt) , proving that love can conquer all in a dangerous new world.
Rated PG-13 for some sensuality and violence
THE HOST hits theaters nationwide March 29th, 2013!