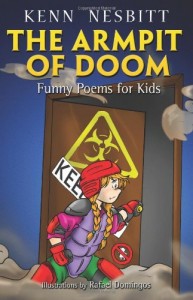 Not to start off on a negative note, but don't judge this book by its cover. It looks a bit amateurish, but inside you'll find great poems and engaging line drawings. Nesbitt's meter is perfect, giving the poems a great read-aloud quality, especially "Breakfast in Bed," detailing a child's typical misadventures in making breakfast for his mom. Another favorite that tumbles right off the tongue is "I'll Never," which states everything this person will never do (climb Mt. Everest, be the President, rustle cattle etc.). And why? "My list is long of all the things I know I'll never do, because I'd rather watch TV, Is that how you are too?"
My 3rd grader likes to read, but sometimes he doesn't feel like reading novels. There are certain types of books like comics anthologies and graphic novels that he tends to read over and over.
Kenn Nesbitt's poetry books fall into this category as well. They're the kind of books that he takes with him in the car and ends up poring over them time and again as we drive around.
We've had a copy of The Armpit of Doom: Funny Poems for Kids for a while, but something happened to it, so actually writing it up slipped my mind. I unearthed it from the hidden recesses of one of the places in my home where books are stashed, and I left it out on the coffee table. Sure enough, my son picked it up, and has been reading it (again) off and on for the last week.
I like sharing poetry with my kids, and in my opinion, you can't beat funny poems, and as you can see from the subtitle of this book — these are funny poems for kids.

April is National Poetry Month. We feature some poetry throughout the year, but there's usually an emphasis on it during this month, so I encourage you to check out our poetry review archives and discover a new favorite to share with your kids in honor of this month.