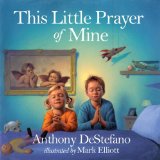 I love listening to the prayers of children—how innocent and precious they are! As a parent, I hope to teach my children that their prayers are important and that taking time to talk with God is an essential part of life. Of course, children learn by example, and I try to model a life of prayer, but I also appreciate good books that can help my children to understand the importance of a faithful walk with God.
In his new book, This Little Prayer of Mine
, Anthony DeStefano uses engaging rhymes to teach children that their prayers are important to God. He also discusses good times to pray: when we are fearful, when we are sad, when we need to make a decision, when we want to praise Him, etc… While these concepts can be applicable to both children and adults, DeStefano includes examples that are easy for children to understand, and Mark Elliott's illustrations beautifully depict scenes that attract the interest of children.
This Little Prayer of Mine
has garnered praise from many, including Bernice King, daughter of Martin Luther King, Dr. James and Shirley Dobson, and Pat and Shirley Boone (among others). It is a wonderful reminder that God loves the little children, and they can turn to Him in prayer at any time.
If you are interested in winning a copy of This Little Prayer of Mine
, please leave a comment on this post. We will announce the winner next Wednesday.
Check out another chance to win over at 5 Minutes for Mom.
We have several giveaways to announce this week thanks to our generous publishers:
Lauren is a wife, a mother of two, and an avid reader. She blogs at Baseballs and Bows. Lauren thanks WaterBrook Press for providing the review copy of this book.
Check out our current giveaways. Subscribe to our feed. Follow us @5M4B on Twitter.