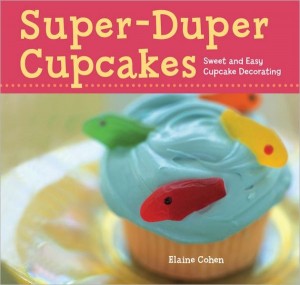 Yes, I have cookbook obsession. I recently counted, and I have 72 cookbooks – not including my newest keeper Super-Duper Cupcakes: Sweet and Easy Cupcake Decorating by Elaine Cohen. Cupcakes are still inordinately popular, and it's amazing to me how creative so many people can be with decorating them.
When I bake, I tend to go for flavor and skip anything cutesie, but mostly because I don't know what to do. I have a ton of great recipes for different cakes and cupcakes that I can whip up for any needed occasion. Super Duper Cupcakes makes the assumption to some degree that I am not alone. The cookbook includes just two basic cupcake recipes – a deep dark chocolate cupcake and vanilla heaven cupcake. The rest is devoted to decorating ideas.
The cookbook is designed for children and is written in a child-friendly manner, but as an adult looking for ideas of what to create, I find it a perfect resource. The first few pages talk about equipment needed and gives encouragement to use whatever kind of cupcakes you want for decorating (including box and pre-made), as this is focused on the decoration side of things.
There are tips throughout the book that I found helpful as I worked to navigate through it. I appreciate the the difficulty in creating the decorations is outlined – the further back in the book, the harder they are, and the background color of the section also helps to denote the level of difficulty. My favorite page, however, was the "color your frosting" page that helped to outline how to create various colors using food coloring. I am so excited to try out some of the more unusual combinations that will help make my overall decorating improve. Did you know you can make grey with 1 drop of blue, 1 drop of red, and 1 drop of green?
The largest chunk of the book is devoted to decorating ideas, and each has a full page color photo of the completed cupcake so you know what you're aiming for, as well as an artist rendering of any of the more difficult or hard to explain steps (so not all ideas have this piece). There are 27 different ideas ranging from Cover Me in Sprinkles (yep, all over that one!) to creating a daisy to an American flag and more. There are several ideas I'd never thought of before, and we're anxious to try out many of them, especially because they ask for common store candies and ingredients rather than expensive and hard to find specialty decorations.
The book also includes some other fun ideas, such as how to have a cupcake birthday party. Since Mister Man has already decided that's what he's doing for his next birthday party, he eagerly devoured this section. I'm hoping that it will convince him we don't have to be quite so elaborate to create a fun baking birthday! There is also a page about saving the memories to help remember the fun you – and your friends – have while making the cupcakes together. The book also includes instructions for how to have a cupcake party at school, and I appreciate that those instructions include both getting permission from your teacher before you start planning anything and that you have to clean up the room when you're done. Those little details make the parent in me happy!
Super-Duper Cupcakes has loads of great ideas, and I am impressed with the creativity it took to come up with some of these designs. A few of the pictures are from too sharp an angle to truly see what the finished cupcake looks like, Birdy Birdy Birdy, for example, but the majority give a clear goal to aim for. The fact that the book focuses on cupcake making as  a social activity and encourages kids to get in the kitchen and try things out definitely deserves a thumbs up, too.
You can enter to win a copy of this book (U.S. only) over at 5 Minutes for Mom. My post there details my kids' experience using one of the recipes. Be sure to leave a comment over there and follow the instructions in the rafflecopter. You can get credit for an extra entry (be sure to indicate it in the rafflecopter), by leaving a comment right here telling me what kind of cookbooks you most like to buy.

In the interest of full disclosure, I received a copy of this cookbook for review purposes. I was not otherwise compensated, and all opinions remain my own.
Staff reviewer Michelle is so happy to be passing her love of cooking and baking to her wee ones. See what she's cooking up lately on her blog Honest & Truly! or follow along with her on Twitter where she is also @HonestAndTruly.