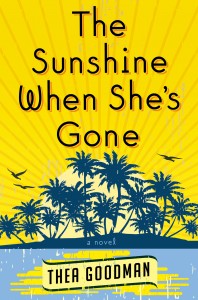 Six months after the birth of their child, Veronica and John Reed are living in a distinct period of life– the after. After their daughter was born, there was a shift for both of them that they can't quite articulate, but one that is apparent and affecting. One early morning spur-of-the-moment decision is the spark for an uncommon tale of marital struggles in Thea Goodman's The Sunshine When She's Gone.
When Veronica awakens on a Friday morning in January to a quiet home, she realizes that she's had her first full night of sleep since Clara's birth. This luxury that she used to take for granted is now decadent. Though initially disconcerted by John and Clara's absence, Veronica eases into a mode of relaxation she had forgotten was possible. Little does she know that John has departed with Clara, headed to Barbados, an attempt at giving his wife a chance to sleep in that has spiraled into something completely different. A chance to prove something? An opportunity to try to parent independently, free from the scrutiny and order of his wife, taken to an extreme?
As the chapters shift perspectives between John and Veronica, readers are made privy to their back stories– their own experiences as children, the challenges of Clara's birth, the gradual decline of their marital relationship over the course of the previous six months– through memories and reflections seamlessly interwoven in the narrative. Goodman's writing has a mesmerizing quality to it, with beautifully composed passages and deep character development.
I have to admit, though, that as much as I loved the writing, I struggled with many plot points in this novel. While I could certainly understand the characters' motivations, I couldn't help but wonder, who would do this sort of thing? And to an even greater extent, what marriage could survive this? I was compelled to put the book aside more than once out of frustration with the characters, but I kept having to return to discover what would come of Veronica and John.
Readers looking to be swept away by a literary story of an unconventional reaction to the challenges of new parenthood should look no further than The Sunshine When She's Gone. I'd love to hear others' perspectives on this story, so chime in in the comments section if you've read this one or if you're intrigued enough by my thoughts to give it a try.
Dawn's grateful her husband never mysteriously disappeared with their first little baby boy almost thirteen years ago, though she thinks she might not protest too much if he tried it with all three kids for a weekend now. When life presents the opportunity, Dawn blogs a bit at my thoughts exactly.