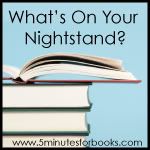 Are you ready? It's time to talk books! Each month we are amazed at those of you who choose to link up, so thanks!
We also welcome newcomers each month, and we appreciate how you are spreading the word.
As a recap — this is how it works. You just make a list of books that you'd like to read this month, or hope to read this month, or books that you've recently finished and are moving off your nightstand.
Write a post on your blog and link directly below. Or just tell us in the comments if you don't have a blog. And whether you are linking up or not, click around to see what everyone else is reading. You'll probably get some new ideas.
Check out our current giveaways. Subscribe to our feed. Follow us @5M4B on Twitter or on Facebook.