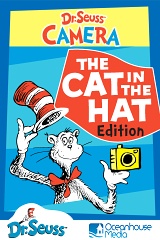 With Dr. Seuss' birthday (March 2nd) around the corner it was a great time for my son and I to review some fun apps from Oceanhouse Media. We were lucky to receive a few great ones to try out and a couple of codes to pass on also!
Dr. Seuss Camera – The Cat in the Hat Edition
We have had so much fun taking picture of each other and making them into 'cards' based on Dr. Seuss artwork. You can create cards with fun borders or even put your child's face right into the picture to become the Cat in the Hat or Thing One. Once done cards can be saved into your library or emailed out. This app is very easy to use, my 4 year old needed no beginning instruction from me on how to use the features. I only helped him to take a clearer photo of our guinea pig, otherwise known as little brother. We were in stitches playing around with the features and make his brother into all kinds of characters.
No recommended age but I would say 4 and up.

This one is a little addictive! You can either use the free play mode to make your Seussical instrument play your own music or you can play the Music Game. The Music Game has you playing colour coded notes as they fly towards you on the screen. There are 3 levels of play and I am pretty sure I will never move beyond the Medium. There are many unlock-ables that offer further play with new instruments, songs and sound effects. I have yet to master anything well enough to unlock anything. My son can play this but it is a little hard for him. I think that an iPad would be a lot easier to use than our iPod.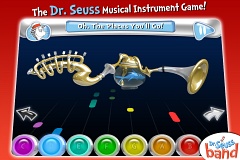 No age recommendation but I would say 4-5 and up.

You can celebrate Dr. Seuss' birthday with both of these fun apps as well. I was provided with iTunes codes for both of these apps to pass along to one lucky person. To enter – Tell me What is your all time favourite Dr. Seuss book? I like Fox in Socks. We'll announce the winner on March 6. The giveaway is closed.
Check out our current giveaways. Subscribe to our feed. Follow us @5M4B on Twitter or on Facebook.