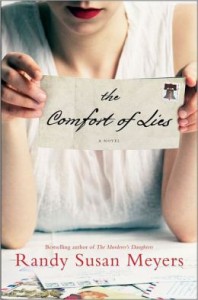 There are times when reading books where I take a breath and am just glad that my life is nothing like that of the characters I'm reading about. The Comfort of Lies by Randy Susan Meyers is definitely one of those. The book starts with Tia, a 24 year old who is having an affair with Nathan, who is otherwise happily married. When she informs him that she's pregnant, he advises her to "take care of it" and breaks it off with her.
Tia, a "good" Catholic from Southie knows she has to give birth but decides it's in everyone's best interest to give her child up for adoption so she doesn't have the continual memory of her lover staring her in the face every day. She finds the "perfect" couple, Caroline and Peter who are a doctor and successful entrepreneur, respectively.
Fast forward five years, and everything is falling apart. On the birthday of her daughter every year, Caroline sends photos and a short letter to Tia updating her on Honor (Tia's name) / Savannah (her adopted name). This year, Tia starts breaking down, imagining life had she kept her child. At the same time, Caroline is realizing more and more that she didn't want to be a mother; she was pressed into the adoption purely on the force of Peter's enthusiasm for a large family. She'd rather have the time in her office, and she has no interest in playing with or getting dirty with Savannah.
Tia writes a letter to Nathan, telling him that she didn't have an abortion and that their daughter is now five years old and adopted, including copies of the photos and Caroline and Peter's contact information. The letter never makes it to Nathan, as his wife Juliette intercepted it. Juliette had forgiven Nathan and loved her life with her two sons and husband. Seeing the photos of Savannah tears her apart, however, and she surreptitiously contacts Caroline under the guise of a free beauty treatment at her upscale store.
Life spirals downward for all the characters in the book as they try to make their way through the morass of lies and change and betrayal and change in themselves. The book is told from the point of view of four of the main characters – Tia, Nathan, Caroline, and Juliette – changing from chapter to chapter, and allowing the reading to gain a broader perspective on how each is – or isn't – handling the crisis.
All of the characters are deeply flawed, yet they are so beautifully real that you still root for them and understand their dilemmas. None of them are content with their flaws or ignore them. They all know and simply struggle to overcome them. So often in our lives, we can make bad choices and not have or not see the consequences. In The Comfort of Lies, everyone has to deal with the consequences of their decisions, and they do so with truly human reactions. Yet again, this is a novel and entirely fiction, yet it kept me thinking long after I finished reading it.
In the interest of full disclosure, I received a copy of the book for review purposes. I was not otherwise compensated, and all opinions remain my own.
Written by Michelle who is grateful that she doesn't have a "secret" child hidden out there. Her two are definitely plenty! See what they're up to on her blog Honest & Truly! or follow along on Twitter where she is also @HonestAndTruly.