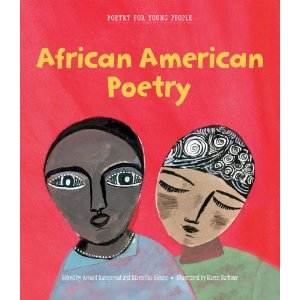 February is Black History month, but this new addition to the Poetry for Young People series is a great addition to a home library no matter what month of the year. A collection of poetry written by African-Americans from all ages and with delightful illustrations by Karen Barbour, African American Poetry
serves first and foremost as a celebration of the written word. Curious children, or their intentional parents, can learn a lot of black history by reading the introductions on each author featured in the collection.
The opening poem, by Phillis Wheatley (circa 1753-1784), is titled "On Being Brought from Africa to America." Wheatley was a strong Christian and used her poetry to present the idea that all, black and white, are equal in the eyes of God. The closing poem, the famous "My People" by Langston Hughes, celebrates the beauty of his people. In between, famous writers like Maya Angelou and Richard Wright, Gwendolyn Brooks and Lucille Clifton, offer memorable glimpses of life in all its variety.
There are poems to elephants in zoos and snowfalls and imagination, and poems on creation and friendships between white and black children. Each poem has an introduction to the writer and a brief interpretation of the poem, but it's the works themselves that really stand out.
African American Poetry
is a beautiful collection of poetry, and a gentle introduction as well into the lives and thoughts of people who lived in times and places of inequality, and dealt with it with dignity and hope.