Reading a good book is like having an affair.
One of the many definitions of "affair" is a romantic or passionate attachment typically of limited duration.
Which is exactly like reading.
Whether a book takes me two hours or two days to read, it is often a far too limited duration as everything else in my life seems to disappear. A good book, like an affair, is all consuming and everything else often pales in comparison to its excitement and newness. It is also a secret, perhaps guilty pleasure, shared between two people – the writer and the reader.
I am a passionate reader. I have had a love affair with books from the moment I learned how to read.
When I was a child, my parents would take me and my brother to the library every Saturday, where we would take out six to ten books. We'd start reading immediately in the backseat and the books would not leave our sides for the next seven days until we had to return them and get more. As I consumed those stories over the following week, everything else took a backseat: my parents, my schoolwork, my after school activities were rarely at the forefront of my mind … all I could think about was my book. Would Dorothy make it out of Oz? Would Aslan help the kids fight the White Witch? Would Mrs. Piggle-Wiggle solve the problem of the girl who tattled? I was so immersed in the stories, they became my illicit adventures, my quiet liaisons, my flings, flirtations and dalliances.
It was a natural segue to go from reading to writing because readers become writers. If you read voraciously then, someday, you will say to yourself: I can do this. And the writers are the ones who persist. I persisted. I became a screenwriter, a playwright, a director (which is like writing with people) and eventually, a novelist.
Because I come from a background of playwriting, my job has always been to create characters who are flawed. There are no stories with perfect people. So my characters, are neither white cowboy hat wearing heroes nor are they clad in all black with cackling evil laughs. My characters are humans who make mistakes, both consciously and unconsciously.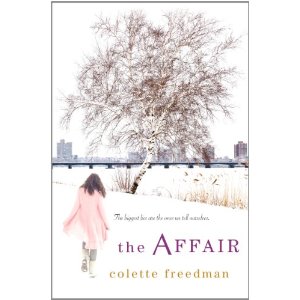 And surely the biggest mistake anyone could make is to become involved in an affair.
No one ever sets out to have an affair. Why would they? When someone is in a relationship, they enter it with the hope that the relationship will have longevity; that it will survive for better or for worse. Yet, affairs do happen. The reasons are endless: men get bored; they want to rediscover their lost youth, they want more sex, they want someone to see them anew. Women want more attention, they want to be seen again, they want more sex, they want someone to look at them with new eyes and not see the wife and mother. People stray.
What fascinates me about affairs in real life is that they are never black and white. There are two sides to most stories; yet, in an affair … there are three:
Why it happened…How it happened…What prompted it to happen. And everyone involved in the affair – wife, husband, mistress – has their own version. And each version is true for that person.
I love the idea that three people can hear the exact words and interpret them differently. The game of telephone which children play at birthday parties proves this. One child says very clearly, "The cat is hiding behind the bed" and by the time the sentence reaches the end it eventually becomes "Candy's hitting Billy's head."
I spoke to many women and men who had been involved in affairs. I interviewed couples who had split up or made up, those whose relationships had been destroyed by affairs, and those whose marriages had been saved.
And it was these fascinating stories – where there is no one truth, but many versions of the truth – which prompted me to my write my version of The Affair.
Guest contributor Colette Freedman is an internationally produced playwright voted "One of 50 to Watch" by The Dramatist's Guild. Her play Sister Cities was the hit of the 2008 Edinburgh Fringe and earned five star reviews. She has co-written, with International bestselling novelist Jackie Collins, the play Jackie Collins' Hollywood Lies, which is gearing up for a National Tour. In collaboration with The New York Times best selling author Michael Scott, she sold the thriller The Thirteen Hallows to Tor/Macmillan. Her newest novel The Affair just published.
Visit her online at colettefreedman.com.